Book Release: "Conflicted Identity" written by Charles R. Young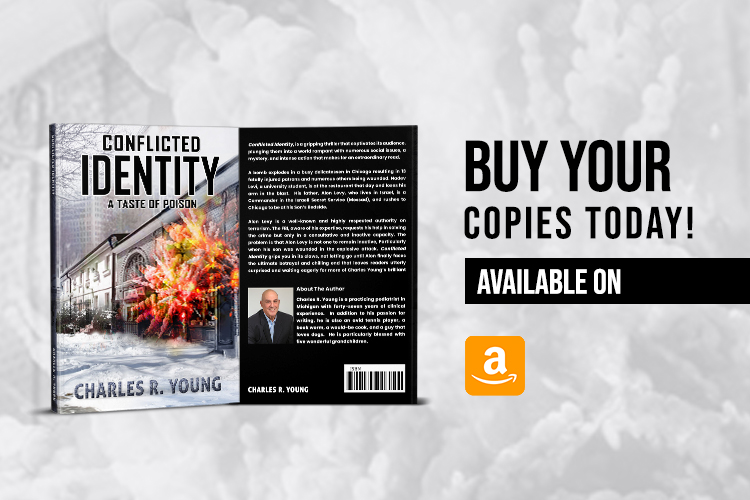 Author Charles R. Young announces the release of his new book, which is destined to become a best-seller in no time.
Charles Young's latest thriller, Conflicted Identity, tells the story of Alon Levy, a combat-hardened Israeli Mossad commander who finds himself in the middle of an investigation into a terrorist attack in Chicago.
The explosion, which claimed the lives of 13 innocent people, shook the city to its core. The FBI quickly determined that it was a planned mission of terror, but as the investigation progressed, it became clear that the attack was more complicated than initially thought.
Enter Alon Levy, who is in Chicago to care for his son, who lost his arm in the explosion. Despite being approached by the FBI to only act as a consultant, Alon quickly takes on a more active role in the investigation. He uncovers facts that make the case much more involved than anyone could have imagined.
Conflicted Identity takes readers on a thrilling journey as they follow Alon's investigation and try to piece together what really happened on the day of the attack. Charles Young's writing is both gripping and thought-provoking, raising questions about identity, loyalty, and the lengths to which people will go in the name of their beliefs.
In an age where terrorism is a constant threat, Conflicted Identity provides a unique perspective on the issue. Alon Levy's expertise and experience in combating international terrorism give readers an insight into the mind of those who are willing to do whatever it takes to further their cause.
As the investigation progresses, Alon is forced to confront his own conflicted identity. He is torn between his duty to his country and his love for his son, who was a victim of the attack. The reader is left wondering whether Alon will be able to balance his personal feelings with his professional duties and bring those responsible for the attack to justice.
Conflicted Identity is a must-read for fans of thrillers and anyone interested in the subject of terrorism. Charles Young has written a masterpiece that not only entertains but also raises important questions about the world we live in today.
About the Author:
Charles Young is a critically acclaimed author who has published several works of fiction and non-fiction, his soon to be released fiction novels include books 2 and 3 of his Alon Levy action trilogy. He has been praised for his ability to create complex, multi-dimensional characters and for his insightful commentary on the human condition. In Conflicted Identity, Charles Young once again demonstrates his mastery of the thriller genre, delivering a gripping story that will keep readers on the edge of their seats until the very end.
Conflicted Identity is available now in bookstores and online. For more information about the author and his work, please visit his website at https://chuckryoung.com
Media Contact
Company Name: Charles R. Young
Email: Send Email
Phone: 2487015480
Country: United States
Website: chuckryoung.com