Amaryllo Unveils the Future of Edge-Computing AI Security Camera Module
M2D module sets new gold standard for camera modules and wins 2023 best choice award
Taipei – May 26, 2023 – Amaryllo, a leading innovator in surveillance technology, is excited to unveil the world's first cost-effective M2D security camera module. This cutting-edge solution harnesses the power of edge computing, biometric technologies, and cloud services, and is coupled with military-grade P2P networks certified by Microsoft Skype to provide the highest level of encryption protection available in the market. The M2D sets itself apart as the new gold standard for camera modules, offering advanced features that aims to replace traditional CCTV camera modules.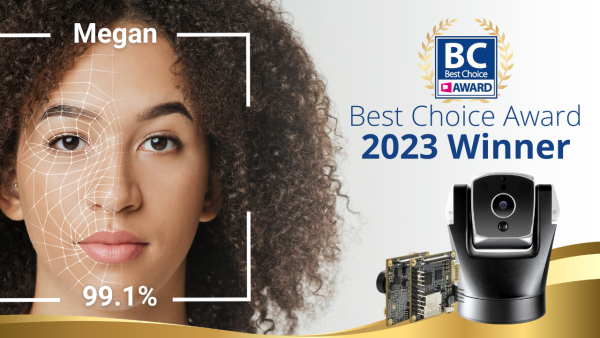 By leveraging its powerful CPU to its full potential, the M2D offers cutting-edge AI recognition capabilities that use computer vision to detect humans, vehicles, pets, and fire in real-time. Additionally, the module utilizes advanced audio recognition to listen for glass shattering and fire alarms, providing comprehensive surveillance coverage. The module seamlessly integrates with professional monitoring services that effectively reduces false alarms by 99% resulting in improved security efficiency. Furthermore, when the video backup service is used in combination with the M2D module, users can conveniently playback video recordings from up to 365 days, enhancing security and peace of mind. "As the world's first edge-computing security camera module with built-in biometric technologies and cloud services, the M2D module's unparalleled features make this a perfect solution for consumer technology brands looking to incorporate advanced surveillance technology into their products at an affordable cost." said Francisco Lopez, Global Assistant Sales Manager of Amaryllo.
In recognition of its exceptional capabilities, the M2D module has been awarded the prestigious 2023 Best Choice Award in the IC and component category. To see the M2D module in action and learn how it can benefit your business, visit Amaryllo at booth N0802 at Computex from May 30th to June 2nd. Don't miss this opportunity to discover the future of advanced surveillance technology.
About Amaryllo:
Amaryllo is a global leader in innovative surveillance technology, dedicated to developing advanced security solutions for consumer technology brands and smart home devices. With a track record of multiple award-winning products globally, Amaryllo has a strong focus on biometrics, cloud services, data encryption, and edge-computing technology, striving to revolutionize the surveillance industry and provide the highest level of protection and convenience for its customers.
Media Contact
Company Name: Amaryllo Inc.
Contact Person: Anna Cheng
Email: Send Email
Phone: +1-949-316-1222
Country: United States
Website: https://www.amaryllo.us