Introducing the 5th Annual Twin Cities Hair & Beauty Expo: Celebrating Diversity, Innovation, and Self-Expression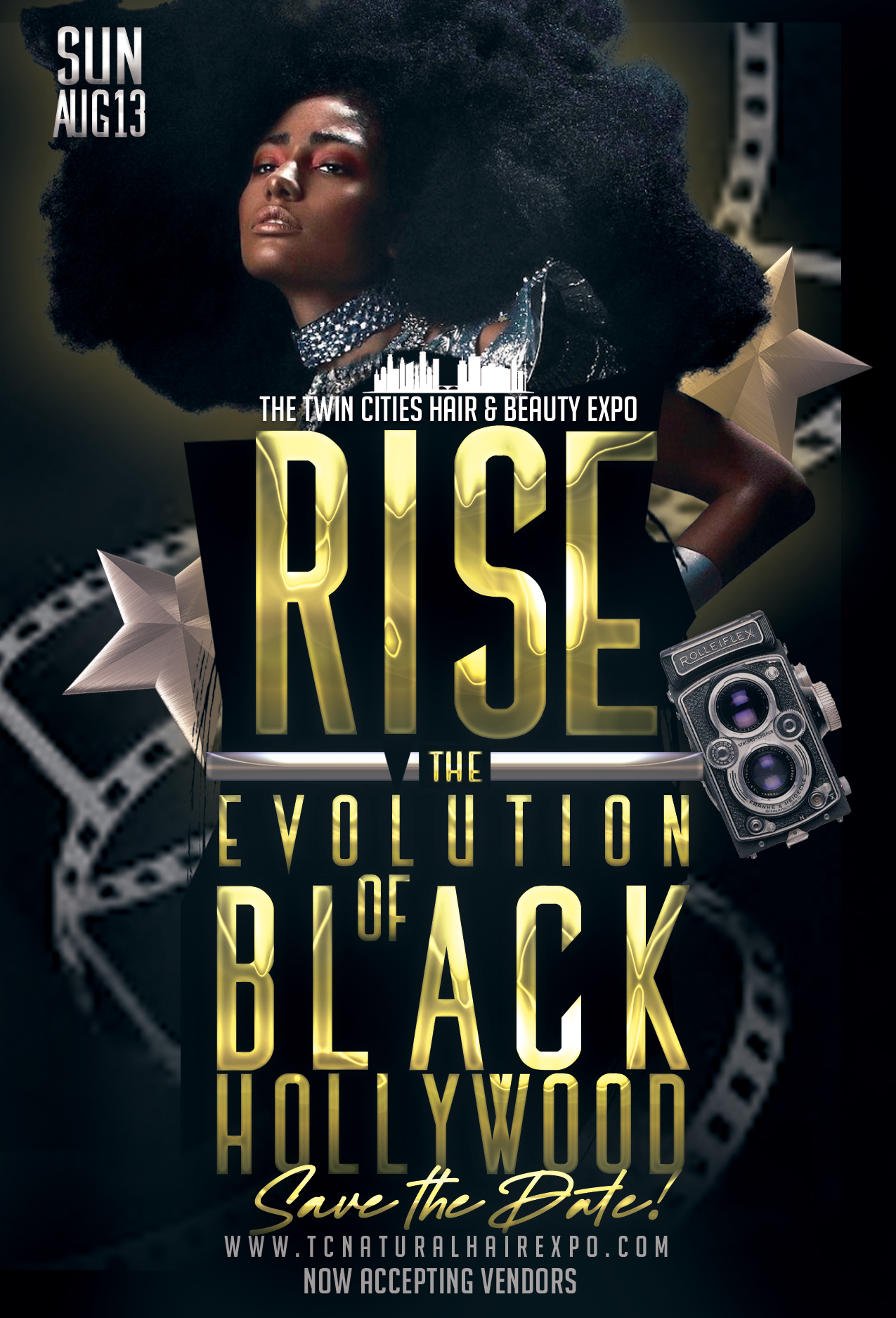 The 2023 Twin Cities Hair & Beauty Expo presents: RISE: THE EVOLUTION of BLACK HOLLYWOOD
Minneapolis, MN – May 24, 2023 – The Twin Cities Hair & Beauty Expo, formerly the Twin Cities Natural Hair & Beauty Expo, is thrilled to announce its fifth annual extravaganza, set to take place on August 13th, 2023, at the Courtyard by Marriott, Minneapolis. As the Upper Midwest's most highly anticipated cultural event in the hair and beauty industry, this year's expo promises to be a more inclusive, remarkable celebration of diversity, innovation, and self-expression, showcasing the boundless creativity and talent within the hair and beauty community.
The Twin Cities Hair & Beauty Expo has firmly established itself as the largest event for industry professionals, enthusiasts, and beauty aficionados across the region. Participants and vendors travel from across the country to join this annual event. This year, the expo aims to surpass all expectations, offering attendees an unforgettable experience through a variety of engaging activities, enlightening workshops, and dazzling showcases.
In 2023 we will celebrate the RISE & Evolution of Black Hollywood we celebrate the RISE & Evolution of Black Hollywood. The evolution of Black Hollywood has been a remarkable journey of progress, resilience, and groundbreaking achievements. Over the years, African American actors, filmmakers, and storytellers have consistently pushed boundaries, challenged stereotypes, and paved the way for greater representation and diversity in the entertainment industry. The evolution of Black Hollywood has been closely intertwined with the changing landscape of Black hairstyles. Over the years, Black hairstyles have evolved as expressions of cultural identity, fashion trends, political statements, and assertions of self-empowerment.
Highlights of the 5th Annual Twin Cities Hair & Beauty Expo include:
Inspirational Keynote Speakers: Renowned industry leaders and influencers will grace the stage, sharing their insights, experiences, and expertise in captivating keynote presentations. Attendees will have the opportunity to learn from the best and gain valuable knowledge to enhance their own careers and passions.
Beauty Exhibitions: An array of exhibitors, ranging from established brands to emerging startups, will showcase their latest products, innovative technologies, and cutting-edge services. Attendees can explore and experience firsthand the newest trends and advancements in hair care, skincare, cosmetics, and more.
Expert-led Workshops: Attendees can immerse themselves in a diverse range of hands-on workshops led by industry experts. From hairstyling masterclasses to skincare and makeup tutorials, these interactive sessions will empower individuals to refine their skills and unlock their creative potential.
Runway Shows: Prepare to be dazzled by breathtaking runway shows featuring avantgarde hairstyles, mesmerizing makeup artistry, and captivating fashion. Renowned stylists, designers, and models will bring their artistic visions to life, showcasing the limitless possibilities of hair and beauty.
Empowerment Panels: Engaging panel discussions will address important topics surrounding diversity, financial development, inclusivity, and self-acceptance within the hair and beauty industry. Esteemed panelists will share their personal stories and insights, fostering dialogue and inspiring positive change.
Networking Opportunities: The expo provides an unparalleled platform for networking and forging valuable connections with industry professionals, influencers, and fellow enthusiasts. Attendees can build relationships, exchange ideas, and collaborate on future endeavors.
"We are thrilled to celebrate our 5th year of the Twin Cities Hair & Beauty Expo," says Tephanie Delaney, one of the visionaries behind this remarkable event. "Our mission has always been to showcase the incredible talent within the hair and beauty industry, promote diversity and inclusion, and inspire individuals to embrace their unique beauty. We can't wait to welcome everyone to this extraordinary celebration of creativity and self-expression."
"What drives the success of this event is the positivity of the atmosphere has remained consistent, the energy is uplifting and we're collectively celebrating US as we also bring awareness to concerns in our community" says Briana Cress, master stylist, entrepreneur and an organizer of the expo. "The space this expo provides for small business owners of color is major! It is designed to elevate brands and expand their reach by exposing businesses to a couple thousand attendees all in one day. As a vendor turned organizer, I can attest to the exposure the expo provides being a game changer for my business!"
Do not miss the 5th Annual Twin Cities Hair & Beauty Expo—an event that promises to be bigger, bolder, and more inspiring than ever before. Join us on August 13, 2023, at the Courtyard Minneapolis for an unforgettable experience that will leave you feeling empowered and ready to redefine beauty.
For more information, sponsorship opportunities, and ticket sales, please visit tcnaturalhairexpo.com. Follow us on Instagram @twincitieshairexpo for the latest updates and behind-the-scenes sneak peeks.
Media Contact
Company Name: Twin Cities Natural Hair & Beauty Expo
Contact Person: Tephanie Delaney
Email: Send Email
Country: United States
Website: TCNaturalHairExpo.com