Bitminer Factory Revealed: The Premier News Aggregator for Cryptocurrency Mining Enthusiasts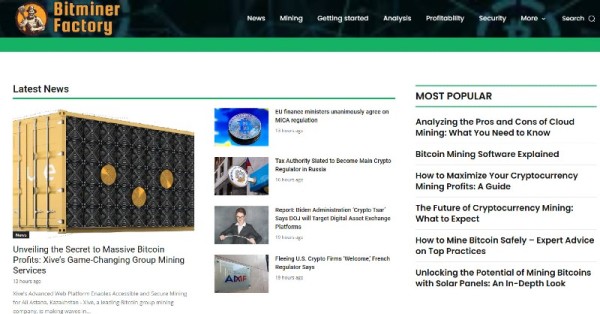 Bitminer Factory, a dedicated news aggregator serving the cryptocurrency mining community, proudly announces the launch of its rebranded and revitalized website. This major upgrade elevates the way crypto mining devotees access and consume news, providing a singular platform for all the latest updates, trends, and insights.
In the rapidly advancing world of cryptocurrencies, staying abreast of developments has become crucial for individuals and businesses within the mining sector. Recognizing this demand, Bitminer Factory committed to devising a user-centric platform that curates and disseminates the most pertinent news articles, industry updates, expert perspectives, and market analysis.
The redesigned Bitminer Factory presents an elegant and user-friendly interface, ensuring an effortless browsing experience. Visitors can now delve into a vast array of topics related to crypto mining – from beginner's guides, mining hardware and software, to profitability, regulations, safety, and more. By consolidating trusted content, Bitminer Factory eliminates the need for users to sift through multiple websites, thereby streamlining their information gathering process.
"We are excited to present the new Bitminer Factory to the crypto mining community," said Darrell Houghton, President, Bitminer Factory. "Our goal is to establish a centralized hub where enthusiasts can find all the information they need in one place. Through carefully curating content from a variety of trusted sources, we ensure our users receive accurate, relevant, and timely news to make well-informed decisions."
Highlighting the Key Features of Bitminer Factory:
Extensive News Coverage: Bitminer Factory scans a multitude of reputable sources, including premier crypto publications, industry blogs, and authoritative websites, offering a diverse assortment of news articles on crypto mining.
Expert Opinions and Analytical Insights: By aggregating expert viewpoints, market analysis, and research reports, Bitminer Factory equips users with invaluable insights into the crypto mining sector, thereby aiding them in making informed decisions.
User-Centric Interface: The website's intuitive design and mobile-responsive layout facilitate easy navigation and quick access to information, making Bitminer Factory accessible on any device.
Bitminer Factory is dedicated to upholding the highest standards of integrity and accuracy in its news coverage. Leveraging trusted sources and sophisticated algorithms, the platform guarantees users access to dependable information on which they can confidently rely.
Explore the world of crypto mining with Bitminer Factory at https://bitminerfactory.com
About Bitminer Factory:
Bitminer Factory is a premier news aggregator and resource hub tailored to the crypto mining community. With a mission to equip crypto mining enthusiasts with the freshest news, insights, and analysis, Bitminer Factory offers a centralized platform brimming with information pertinent to the dynamic world of cryptocurrency mining.
Media Contact
Company Name: Bitminer Factory
Contact Person: Darrell Houghton
Email: Send Email
Country: United States
Website: https://bitminerfactory.com/