"T.Y. Buratai: A Life in Strategic Leadership" Takes Readers on an Inspiring Journey of Courage, Innovation, and Triumph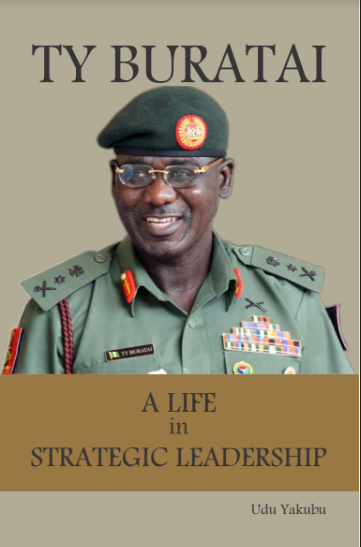 Udu Yakubu, an acclaimed biographer, corporate historian, and scholarly publisher, has released a groundbreaking book titled "T.Y. Buratai: A Life in Strategic Leadership." This captivating biography delves deep into the life and achievements of Lt. General T.Y. Buratai, offering readers a unique and remarkable perspective on his inspiring journey. Through extensive research and a captivating storytelling approach, Yakubu paints a vivid portrait of one of Nigeria's most influential leaders.
Divided into three parts, the book provides a comprehensive overview of General Buratai's life, beginning with his humble origin and formative years. The first part, "Foundation for Leadership," explores his childhood, family influences, and early decision to pursue a career in the military. Yakubu masterfully portrays Buratai's courageous spirit and determination, which propelled him through the ranks, highlighting his leadership skills and unwavering dedication.
The second part, "Keeping Nigeria Together," focuses on General Buratai's tenure as the Chief of Army Staff and his pivotal role in addressing various conflicts plaguing the country, notably the fight against Boko Haram, ISWAP, IPOB, and banditry. The book sheds light on his innovative "lead by example" strategy and resourcefulness, highlighting the challenges he faced and the remarkable achievements he spearheaded in restoring peace and security.
In the final part, "Accountable Leadership," Yakubu delves into the responsive and forward-thinking leadership approach of General T.Y. Buratai. The biographer meticulously explores his transformative policies and initiatives as the Chief of Army Staff, which revitalised the Nigerian Army and reinstated its commitment to professionalism and excellence.
Yakubu's exceptional writing prowess and gift for storytelling shine throughout the book, effortlessly guiding readers through the living years of General Buratai. With meticulous attention to detail, Yakubu interweaves the intricate threads of Nigeria's socio-political landscape, providing readers with a comprehensive understanding of the interconnected events that led to the country's security crises and how General Buratai confronted them head-on.
This biography also serves as a valuable source of lessons and inspiration for the younger generation. From Buratai's early childhood to his military career, readers will learn about the importance of leading by example, identifying talents, and embracing challenges. The book showcases the values of discipline, prudence, and contentment instilled in Buratai's life by his father and the community he grew up in.
Moreover, "T.Y. Buratai: A Life in Strategic Leadership" unveils Buratai's early dreams and pursuits, revealing his journey from aspiring to become a teacher to finding his true calling in the military. The book captures his unwavering commitment to valour, gallantry, and protecting the weak, as well as his unmatched diligence and unyielding determination to achieve his goals.
Yakubu's portrayal of General Buratai's open leadership style and his ability to assemble the best minds to achieve his vision further showcase the remarkable qualities that set him apart as a strategic leader.
"T.Y. Buratai: A Life in Strategic Leadership" is highly recommended to anyone seeking to gain insights into the life and accomplishments of the esteemed army chief. This book is an invaluable resource for those interested in Nigerian history, the military, and strategic leadership in the fight against insurgency and terrorism. It is also a must-read for aspiring military and political leaders, as well as anyone looking to broadening their knowledge about Nigeria. It's a great book by all standards.
Media Contact
Company Name: Tesa Media
Email: Send Email
Phone: +1 (515) 506-8873
Country: United States
Website: www.tesamedia.com