BJ SILK successfully signed an export contract worth $200,000 with Vietnamese Corporate IPPTR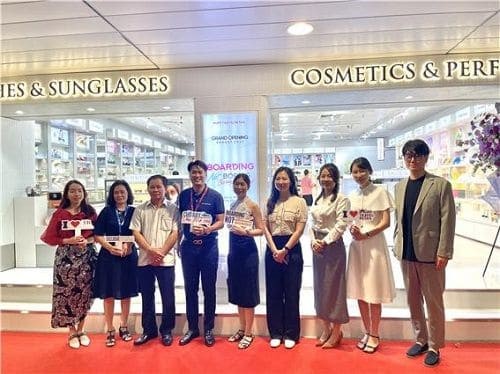 BJ SILK, a company specializing in silk located in Jinju city, Gyeongsangnam-do, Korea, is famous for being one of the top 5 silk producers worldwide. BJ SILK (CEO Choi Yun-Chul) signed an export contract worth 200,000 dollars with IPPTR (IMEX PAN PACIFIC TRAVEL RETAIL) of Vietnamese Corporate IPPG (IMEX PAN PACIFIC GROUP). IPPTR is a distributor of airport duty-free shops and luxury brand department stores.
IPPG occupies more than 70% of Vietnam's premium consumer goods market and runs more than 1,200 luxurious stores, including domestic & international duty-free shops in Vietnam and New Southern countries, Takashimaya Department Store, Saigon Center, and TRAIN TIEN PLAZA. IPPG has a great influence on the Vietnamese premium consumer goods market.
BJ SILK has been specializing in producing silk material, other woven fabric silk scarf, and neckties for about 30 years. After Choi Yun-Chul, the company's founder, Choi Kang-min, the company-affiliated research institute director, manages and conducts various research activities using silk.
In addition, BJ SILK launched the exclusive eco-friendly & high-quality cosmetic brand 'EAU DE SILK' in 2019. With constant consumer interest and support, BJ SILK supplies about 20 types of skincare, hand care, and hair care products to domestic and overseas department stores and duty-free shops.
IPPTR signed an export contract worth $200,00 for the items, namely a 100% silk scarf, necktie, and all 'EAU DE SILK' skin, hand, and hair care products. The products were verified in advance with a preference survey, and IPPTR signed the contract with BJ SILK recognizing its potential.
The 100% Silk Scarf and neckties were introduced in the Vietnamese premium consumer goods market under the brand name 'BJ SILK.' The products are available at the duty-free shop in Noi Bai International Airport in Hanoi, Trang Tien Plaza in downtown Hanoi, duty-free shop in Tan Son Nhat international airport in Ho Chi Minh, TAKASHIMAYA department store in downtown Ho Chi Minh, duty-free shop in Da Nang International Airport. In addition, EAU DE SILK cosmetics are also available at these stores, and the contract was confirmed to expand its sales to other regions in Vietnam, such as Phnom Penh, Nha Trang, and Ha Long Bay.
Choi Kang-min, company affiliate research institute director, stated, "with a grateful heart to start the business successfully in the Vietnamese market, we will make an effort to have active investment and product enhancement for mutual cooperation with IPPTR."
Media Contact
Company Name: BJ SILK
Contact Person: Choi Yunchul
Email: Send Email
Phone: +82 55-755-8766
Country: South Korea
Website: www.bjsilk.kr