The World Roma Federation (WRF) Launches A New Initiative To Celebrate World Homelessness Day
Roma-owned and operated nonprofit, The World Roma Federation, celebrates the 2022 World Homelessness Day with the launch of a new initiative to feed the homeless in New York City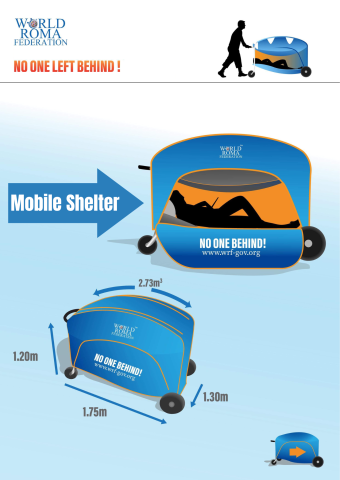 The World Roma Federation (WRF), led by Deny Dobobrov, Director of International Relations in charge of Research & Development, is staying true to its goal of bringing about incremental changes with a focus on social disparities as the organization recently celebrated the launch of its new initiative by reaching out to the homeless in New York City and distributing food packages. In a related development, the organization has launched a fundraiser for "Economic Social Community Outreach," a program developed to provide assistance (Shelter, Food, and Healthcare) and mentor those who are homeless or at risk of becoming homeless.
Homelessness continues to remain a major issue for millions of people in different parts of the world, despite the efforts of government and private organizations putting measures in place to stem the tide of the unfortunate phenomenon. A recent report by the United Nations Human Settlements Program reveals that over 1.6 billion people worldwide live in inadequate housing, with more than 100 million people having no housing at all. Consequently, Janos Sztojka and the rest of the team at The World Roma Federation (WRF) are looking to contribute to reducing the suffering of homeless persons, a claim substantiated by the launch of Economic Social Community Outreach.
Economic Social Community Outreach is developed based on the Sustainable Development Goals. The program includes providing portable shelters for the homeless to provide warmth and protection from the elements. New York City has been chosen as the pilot location, with plans to implement it in communities around the world. The program can have a direct impact on the lives of millions by providing access to clean water, shelter, quality education, and a host of other basic needs. Mobile shelters are particularly ideal for the project due to their portability and ease of moving them. The World Roma Federation (WRF) has also announced plans to purchase a mobile health clinic, a food truck to distribute meals as well as pantry items, and finally a mobile shower trailer from the raised funds.
For further information about Economic Social Community Outreach and other initiatives championed by The World Roma Federation (WRF), visit – www.wrf-gov.org. The World Roma Federation is also available on all major social media platforms, including Facebook, Twitter, and YouTube.
About The World Roma Federation
The World Roma Federation was founded by Janos Sztojka to build and safeguard a fair, free and open society, and ultimately balance the fundamental values of liberty, equality, and community. The organization advocates the freedom, dignity, and well-being of the Roma people and all Europeans, to disperse power, foster diversity and nurture creativity.
Media Contact
Company Name: World Roma Federation
Contact Person: Deny Dobobrov
Email: Send Email
Phone: 224-900-7730
Country: United States
Website: http://www.wrf-gov.org/