'Frogville', Quest of a Princess Brings Adventure and Fun for the 8- to 13-Year-Old Crowd, Continues the Adventures of Lily, the Girl Turned Frog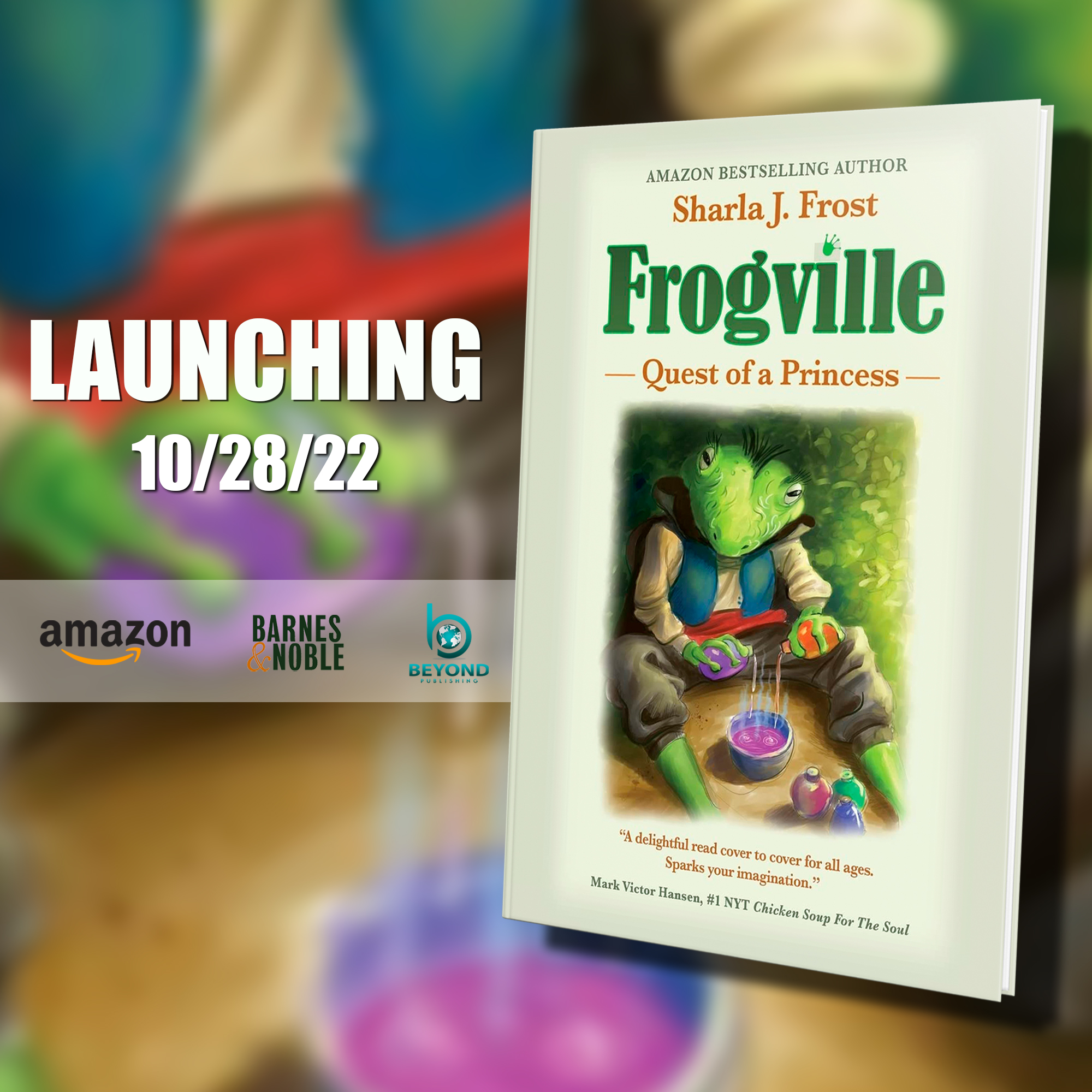 Sharla J. Frost releases the next installment in her Frogville trilogy, to the delight of 8- to 13-year-old readers.
Sharla J. Frost releases the next installment in her Frogville trilogy, to the delight of 8- to 13-year-old readers.
Young readers everywhere are enjoying the second installment of the Frogville trilogy by Author Sharla J. Frost. Frogville, Quest of a Princess finds Lilypad Lotus Dillweed on the road to a magic fountain for the elixir that will free her best friend from an evil curse. Along the way, she finds new friends, family drama, and insight into human nature.
First, Author Sharla J. Frost brought us Quest of a Frog, now there is Quest of A Princess. This second story builds on the themes of family, friendship, and commitment from book one. In this new edition, Lily is joined by a new companion, and the two of them team up to overcome obstacles on their quest to save the ones they love.
Frogville, a new book series by author Sharla J. Frost, turns the traditional fairytale on its head. In the town of Frogville, all boys are turned into frogs on their 13th birthday because of a curse on the town. The only way to be freed from the curse is to kiss a person of royal blood. That's just the way it has always been, until twins Lily and Crocus's 13th birthday.
When Lily and Crocus turn 13, Lily turns into the frog, instead! Lily must then set out on the traditional quest to free herself from the curse. Along the way, she makes new friends, faces family complications, and learns that true love does not require romance. Her adventures continue in this second book.
"My readers have all made clear that they want to see Lily get home to Frogville and reunite with her family. Princess follows Lily and a new friend on their journey and builds on the themes of friendship, commitment to family, and devotion to duty that we explored in the first book. In this tumultuous world we live in, I wanted to give children a story about positive experiences and personal goals without a political theme," Frost explained.
Frost grew up in Frogville, Oklahoma. She had a very successful legal career before retiring home to raise cattle and write books. She is the former President of Litigation Counsel of America and an active member of the National Association of Women Lawyers. Frost is also the author of POWER AT THE TABLE: The Woman Lawyer's Guide to Gaining Clients and Control – The Law Firm Marketing Maverick Teaches How to Develop Your Own Book of Business, a book that shows female lawyers how to rip the lid off what they thought was the limit to their success.
Today, most of Frost's days are spent herding cats and cows. She thinks dragons are simply frogs who have grown wings and flown away. Oh, yes. Children are her favorite people in the world.
"Frogville is pure magic, a wonderful story for every age! Frogs are my new best friends," proclaimed Mark Poe, author of the Harry Moon series.
The New York Times bestselling author of Chicken Soup for the Soul, Mark Victor Hansen, said, "Frogville is an enchanting tale, full of imagination and charm. Frost has given us what is sure to become an instant children's classic, a story for the child in us all."
The Frogville stories were published by Beyond Publishing and are currently available on Amazon, Barnes and Noble and everywhere books are sold in hardcover, paperback and eBook. Frost's first book, Power at the Table, also with Beyond Publishing, was a best-seller.
Media Contact
Company Name: Beyond Publishing
Contact Person: Michael Butler
Email: Send Email
Phone: 918.955.3227
Country: United States
Website: www.beyondpublishing.net