BTS has been announced to be the ambassador of Busan Expo Bid 2030
Busan Expo Bid 2030 is scheduled to take place on October 15, 2022.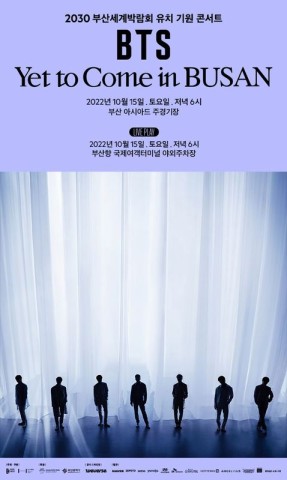 BTS is now the ambassador of Busan Expo Bid 2030, and on October 15 at 6 PM Seoul Time, there will be a free concert by BTS. Fans of BTS from all around the globe can attend the concert LIVE by applying for a Korea ETA to enter South Korea via Korea ETA Website.
The concert will take place on October 15th. Even though the concert is free, all attendees must make reservations. The event will be performed in the Busan Asiad Auxiliary Stadium, which has a seating capacity of 53,000 and a standing capacity of 100,000.
Other BTS fans who couldn't make it to the venue may watch the event live on screen with other people through a LIVE PLAY at Busan Port Terminal Parking Lot. The LIVER PLAY tickets will be accessible solely to individuals who did not win the fan club drawing. The tickets will be available for purchase on the Interpark website. It would be a joyful experience since they could still congregate with other BTS fans to witness the Group's glory. The concert will be accessible to overseas fans via NAVER NOW, Weverse, and ZEPETO, where it will be live-streamed. The
According to BigHit, there will be a ticket lottery for holders of the BTS GLOBAL OFFICIAL FANCLUB ARMY Membership and public reservations for the in-person performance. Army Membership holders may only reserve seats for the concert via a ticket lottery. General reservations for the standing area and canceled raffle tickets will be available. The ticket raffle drawings have already taken place on September 7th and 8th, 2022. Please accept our apologies if you are not one of the fortunate winners. However, you are still in luck since general reservations for the remaining specified seats will be available from September 19th to October 14th. You still have time to apply and see BTS's next performance in Busan. Fans flying to Busan from all over the world will be provided cheap lodging packages and extra advantages by the Group's agent.
Those planning a trip to South Korea to see BTS perform live should apply for a Korea ETA 72 hours before departure.
Korea Electronic Travel Authorization is a system that enables foreigners who want to visit Korea for sightseeing, visiting relatives, attending various events or meetings, or engaging in commercial (but not-for-profit) activities to apply for travel permits online.
Nations that have signed visa waiver accords and countries that allow visa-free entry are eligible to apply for Korea ETA.
Visa-free or visa-exempt travel to Korea is now available to 112 countries, including New Zealand, Germany, Singapore, and the United States. Before visiting Korea, visitors from these countries must apply for a Korea ETA.
Before using this service, please check the ETA application criteria, the countries that have signed the Visa Waiver Agreement, and those that allow visa-free entry into South Korea.
Travelers must apply at least 72 hours in advance of their flight to South Korea.
The issued Korea ETA is valid for two years, and the immigration form is waived upon entrance, enabling you to bypass immigration.
KOREA ETA is a Ministry of Justice Agency. Accurate and validated application processing is feasible with the experience of former immigration authorities from the Ministry of Justice.
The lads released an album called "Proof" earlier this year, and the album's first song, "Yet to Come," was released on the same day. This CD has 48 songs spread over three LPs and is a collection of the band's work. Yet to Come (The Most Beautiful Moment), For Youth, and Run BTS are the three new songs. We anticipate them to sing some of the new songs, as well as some old favorites, during the Busan event. They have stated their plan to take a short hiatus and concentrate on independent projects. J-Hope has since released a solo album, 'Jack in the Box,' and will headline the main stage at Lollapalooza on July 31st. He also debuted music videos for 'Arson' and 'More.' ". Jungkook collaborated with Charlie Puth on his new track "left, right." On September 1st, he also launched a photo book. "Our Island," a new single by Suga, was released. V also appeared in the reality show 'In the Scoop: Friendcation.'" Other members are also hard at work on new songs and personal growth.
The Busan performance will be the lads' first project together after declaring their short hiatus. The statement sparked several rumors that the Group will disband. The Group's agency, BigHit, has informed the public that the Group is still very much intact. They are only making room for themselves to grow. We're anticipating all the ginger and enthusiasm from the world's finest male band. This concert will make us happy since our OT7 will be performing together again. The Group's most recent performance was in Las Vegas as one of the acts for their "Permission to Dance on Stage" series.
Busan officials and the Expo committee have said that they do not have funding to support the performance, which seems to be a stumbling block for this event. HYBE is scheduled to spend 7 billion Korean Won of its own money setting up the stage and other musical accessories. Fans have voiced their displeasure with Busan officials since the event is intended to boost Busan's bid and the city is unwilling to pay for it. Hopefully, this issue will be resolved promptly, and we will be treated to another spectacular performance by our lads.
BTS fans who wish to attend this musical event or those planning a vacation to Korea should apply for a Korea ETA as soon as possible.
For more details on the Busan Expo Bid 2030 BTS Concert, visit k-popavenue.com or explore across social media at https://linktr.ee/koreaeta
Alternatively, contact KOREA ETA at [email protected].
About BTS Concert:
Eminent South Korean K-Pop band BTS will be performing at Busan Asiad Auxiliary Stadium on 15th October at 6 pm(Seoul Time). BTS is the ambassador for Busan World Expo 2030.
Media Contact
Company Name: KOREA ETA CO. LTD
Contact Person: Theo Kim
Email: Send Email
City: Busan
Country: South Korea
Website: k-popavenue.com