"Quit Playing Yourself" by Holly Owen, a unique personal growth coffee table book that combines multifaceted advice with New Orleans street photography, has been released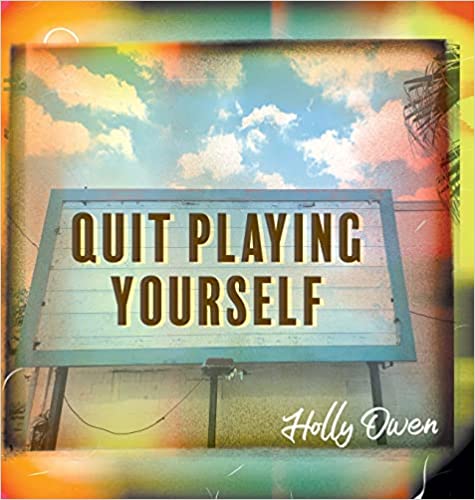 "Quit Playing Yourself" by Holly Owen has been released worldwide. This 150-page, full color art book features a collection of original photographs of New Orleans paired with empowering quotes and life lessons focusing on inner work and interpersonal relationships.
Eschewing clichés and outdated counsel, the advice presented – fresh and authentic, direct and succinct – allows the reader to absorb the messages in a simple yet powerful way. In the same vein, the photographs focus on street art, the true essence of the distinctive neighborhoods, and the simple beauty of New Orleans.
The book itself was born of the author's own relationship struggles, which came to a head during the 2020 lockdown. She found herself out of work at the same time her relationship imploded, creating the perfect storm. She spent her new-found free time analyzing her relationship issues, and exploring and photographing the desolate city.
One afternoon on a walk she had an epiphany, and began matching the quotes she was writing with the pictures she was taking. The project took on a life of its own, and "Quit Playing Yourself" was born. Providing a glimpse into the raw beauty of the historic city coupled with relatable, thought-provoking advice, Owen's creative approach can be appreciated by people from all walks of life.
Broaching a wide range of subjects including self-esteem, boundary setting, self-compassion, and partner selection, Owen takes the reader on an emotional roller-coaster ride from pain and regret to healing and redemption. Artfully composed, the book encourages readers to take accountability for their choices and lives, and never settle for less than they deserve.
Quit Playing Yourself (ISBN: 9781958729014) can be purchased via retailers worldwide, including Barnes and Noble and Amazon. The hardcover retails for $44.99. Wholesale orders are available through Ingram.
From the back cover:
Original photographs of New Orleans streetscapes, street art, and architecture envelop themes of personal growth and interpersonal relationships boldly and beautifully. Raw and unapologetic in its honesty, each page encourages you to honor and respect yourself, trust your intuition, and reclaim your power.
About the author:
Holly is an interior decorator, hobbyist photographer, and writer who is currently spending some time up north after 5+ years in New Orleans. Her design projects have been featured in New Orleans Living Magazine, and she is working on her first novel. Her interests include human psychology, exploring the natural world, and trying endlessly to unravel the mysteries of life. "Quit Playing Yourself" is her first book.
To learn more, visit hollidayhousebooks.com
About NH book publisher Seacoast Press:
NH book publisher Seacoast Press provides authors with traditional-quality book publishing services, while allowing authors to retain publishing rights and 100% royalties. Seacoast Press' wide variety of publishing services include: book design; editorial printing; distribution; publicity; and marketing. Seacoast Press books are available through retailers and booksellers worldwide. All Seacoast Press books can be purchased wholesale through Ingram.
To learn more about Seacoast Press, the premier book publisher in NH, visit seacoastpress.com
Media Contact
Company Name: SeacoastPress.com
Contact Person: Jen McNabney
Email: Send Email
Phone: 603-546-2812
Address:1 New Hampshire Ave Suite 125
City: Portsmouth
State: New Hampshire
Country: United States
Website: https://www.seacoastpress.com/