RACKINATOR Offers the Best choices for Quick Release Bracket System
Removing the car's exterior overlanding gears may enhance fuel economy. RACKINATOR is a S. Korean company offering the best options.
Studies have shown that removing the car's external overlanding gears, may result in significant improvements to the fuel efficiency of the vehicle. RACKINATOR is a business with its headquarters in S. Korea. The Quick Release Bracket System was invented by our engineering team. This system makes it possible to relocate an awning inside of a home in about ten seconds. This will revolutionize the way people attach, detach, and store their awnings, be it touring types, or hard-shell types.
Using high quality steel and neodymium magnets as core components, the Quick Release Bracket System is built to last. In order to lessen and prevent rattling, high-density polyethylene plates are included in the box.
Smart Touring Systems produces kits with either two or three attachment brackets. High-duty mounting options and other optional extras are also available for purchase.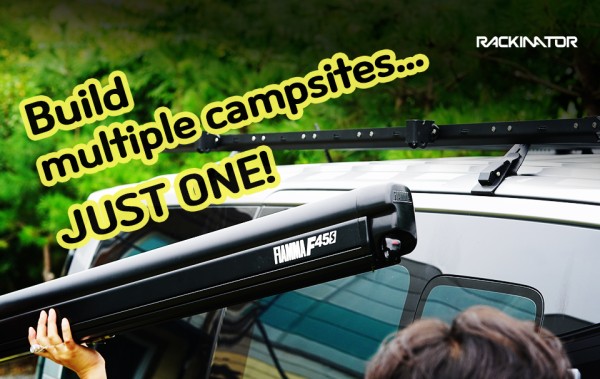 The following categories of individuals may benefit from using RACKINATOR QRBS:
1. Who desire to be able to cover more than two cars or caravans with a single awning,
2. Who want to increase the amount of space available in the trunk of their vehicle for passengers,
3. Who had a small RV, but could not afford an update even though they need more room,
4. in addition to those who want to erect a tent inside the confines of their automobile by means of an awning.
In order to enable disassembly without the need of tools, the RACKINATOR QRBS utilises two neodymium magnet pins, each of which, has a rating of 2,700 gauss. You have the option of installing a touring-style awnings by ARB or Rhino-rack, or a hard-shell aawnins by THULE, Dometic Group, or Fiamma if you already possess a set of crossbars (of any brand). This is true for the multi-use awning solution also. So it is a sensational new way to utilize car awnings.
Isaac Kim, the Sales Manager at RACKINATOR, claimed that his firm, which invented the LUMACA Awning in 2013, has garnered a great deal of affection and respect from Korean overlanders over the course of the past 9 years. The RACKINATOR, as trustworthy as the LUMACA Awning, has just been shown to be of a higher quality than its rivals. The QRBS that we have just manufactured, will give the worldwide overlanding community an entirely new experience.
Media Contact
Company Name: Isaac Kim
Email: Send Email
Address:201, 354-133 Cheonbuknam-ro, Cheongbuk-eup, Pyeongtaek-si
City: Gyeonggi-do
Country: South Korea
Website: https://m.youtube.com/c/RACKINATOR