XMAI launches its fitness gear, a portable, versatile, on-the-go fitness cable home gym on Kickstarter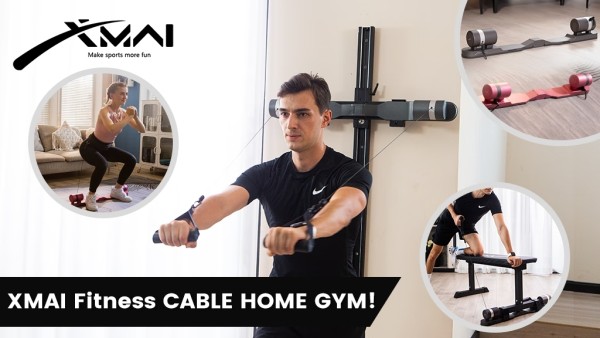 XMAI, a Chinese-based fitness gear manufacturer, is delighted to introduce its portable, versatile, on-the-go fitness cable home gym on Kickstarter.
New reports state that many gym and fitness enthusiasts have recently started desiring ways to cut short trips to the gym while maintaining the same fitness routines at home. Obviously, the traditional way of fitness can no longer satisfy many busy with their work, while most others simply desire to upgrade their home gym setups. Whatever the case, portable gyms and fitness cables have become the answer.
Portable workout kits, like the XMAI fitness cable, allow one to do various exercises, often with varying levels of resistance. Still, they're lightweight, can be taken anywhere and don't take up much space. The XMAI is a must-have for all who want to make the most of their at-home, on-the-go workout time.
XMAI Fitness controls the magnetic resistance, speed, and position of the motors on both sides and cooperates with different parts to achieve different training effects on the body, which can replace the traditional dumbbells and barbells to realize the digitalization and intelligence of sports, and communicate with other sports enthusiasts can rich fitness experience to make sports more interesting.
Speaking about the fitness cable, an executive of XMAI said: "our gadget has a Built-in intelligent, powerful motor with up to 300lbs adjustable resistance through the mobile App's intelligent adjustment of resistance. This enables you to get ready for the toughest workouts, whether you are a fitness beginner or a professional fitness expert."
The Self-equipped APP can help users remember their data and the resistance they often use and help them continue their fitness activity the next time. At the same time, The APP includes classes led by certified coaches, a global leaderboard and challenges, custom-built workouts, real-time performance feedback, wellness guidance, etc.
XMAI has an exclusive data display – Inspired by sports car dashboards. As a visualization tool, the data display adopts the most incredible way to put one's most vital workout data front and center — reps, time, velocity, power, and more. Bluetooth-connected model, along with the XMAI App, tracks one's workout, monitors one's progress, provides valuable data and analytics, and coaches the user to help them reach their fitness goals.
XMAI cables utilize a unique blend of fibre with nearly 1000lbs of break strength. Unlike bands, the cables provide constant resistance. Additionally, the cables can be adjusted to varying lengths for convenient positioning at the start of an exercise.
With an ALL-IN-ONE design, XMAI can take out Strength, Cardio, Suspension, Plyometrics, and Function Training. It also weighs less than 9lbs (4kgs) and folds conveniently into a ridiculously small package, making it the ultimate portable fitness gear.
The XMAI fitness gear has elicited five-star reviews from its users. "I really want to keep fit, but my work is hectic, and the fee of the fitness coach is too high. I must say that XMAI helps me train with a professional teacher when I get home. As a newcomer to fitness, I can also meet many people here to give me advice, and the recorded data can help me go further in my training!" said an excited Jimmy.
To have an in-depth look at the XMAI fitness cable, check out the company's page on Kickstarter.
Media Contact
Company Name: XMAI
Contact Person: Sam
Email: Send Email
Country: China
Website: https://www.kickstarter.com/projects/xmaifitness/m001-fitness-foldableandportableandhome-gym?ref=discovery&term=%20%09%09%20XMAI%20Turn%20on%20screen%20reader%20support