Human Haitian Creole Translator Creates Audio Alternative To Help American Individuals and Companies Get Haitian Creole Audios That Don't Sound Robotic
Through his new service, Swans Paul is offering to help translate English to Haitian Creole audio by recording translation requests with his voice, as Google Translate no longer covers Haitian audio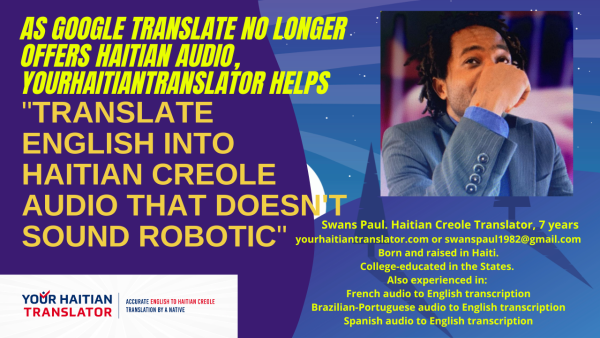 Swans Paul is delighted to announce the launch of a new Haitian Creole translation service that will allow US-based people and companies to translate English into Haitian Creole audio. The new service titled, YourHaitianTranslator, was designed to serve as a superior alternative to Google Translate, which has stopped offering translations of the audio version of Haitian Creole words and sentences for a while.
Born and raised in Haiti, Swans Paul is a native speaker and an experienced translator with over 7 years of experience working as a professional Haitian Creole translator. Together with his team, the human Haitian Creole translator will use his voice to read and create clear, native Haitian Creole audios that do not sound robotic.
In addition to offering a more accurate translation compared to most machine translation platforms,YourHaitianTranslator will also help clients improve their command of the Haitian language. Users of the service will eventually be able to properly pronounce Haitian Creole words and sentences, as well as communicate more clearly with their Haitian audience when leaving voice notes for customers, speaking to patients, etc.
On his YouTube channel – Your Haitian Translator, Swans Paul has compiled more than 100 such audio translations of English words and sentences into Haitian Creole audio. Some of the popular phrases available in Haitian Creole with the correct pronunciations include "What is your name?" "How old are you?" "What's your mother's name?" and how to state "You have the right to remain silent," as well as other Miranda Rights statements in Haitian Creole.
To leverage the YourHaitianTranslator service, users simply need to fill and submit an online form with the English text they want to be translated to Haitian Creole. The team will then record and send back the translated audio in MP3 format.
For further information about the English into Haitian Creole audio translation service with human and natural voice, please reach out to YourHaitianTranslator via the contact info below.
About YourHaitianTransaltor
Swans Paul is a Haitian Creole translator with over 7 years of experience working for various translation agencies all over the world, in countries like the United States, Canada, France, the United Kingdom, Germany, Egypt, etc. The freelance translator was born and raised in Haiti before moving on to attend college in the tates. Before starting his latest service, Swans has also worked on French to English transcription projects for companies in the UK, France, and Canada transcribing audio recordings from French into English. The freelance translator founded the new YourHaitianTranslator to function as a superior alternative to AI-based translation services that produce hard-to-understand or plain plain-old inaccurate translations. Working closely with his team, Swans also translates Spanish audios, as well Brazilian-Portuguese audios into English, has previously worked as a private tutor for Brazilian people in the Boston area, and has given various interviews on Brazilian radio stations in the Boston area. The digital nomad currently lives between Paraguay and Brazil.
Media Contact
Company Name: YourHaitianTranslator
Contact Person: Swans Paul
Email: Send Email
Address:Hernandarias, Alto Parana
Country: Paraguay
Website: https://yourhaitiantranslator.com/