New Beginning, New Heights, New Journey丨Jiarong Technology successfully listed
Xiamen Jiarong Technology (stock short name: Jiarong Technology, stock code: 301148) was successfully listed on the GEM of Shenzhen Stock Exchange on April 21, 2022, officially becoming the 63rd A-share listed company in Xiamen! Marking an important milestone in the company development history.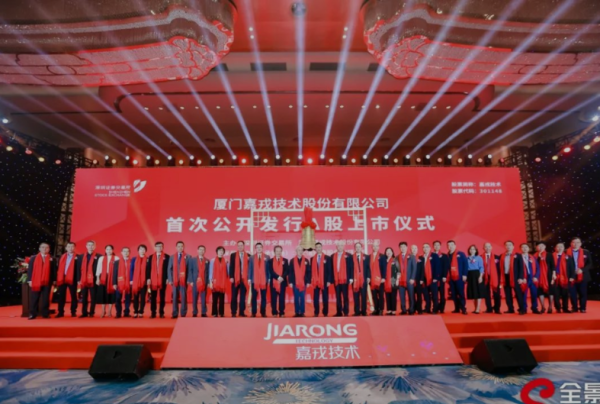 The ceremony was held in the form of a live cloud broadcast, through the Shenzhen Stock Exchange main site and Xiamen branch site .
The public offering of 29.13 million shares at an issue price of USD 6.03 will raise funding USD 175.7 million, which will be used for high-performance membrane materials industrialization project, DTRO membrane module capacity expansion and special separation membrane module industrialization project, R&D center construction project, operation network construction project, etc.
Xiamen Jiarong Technology is a technology-led engineering company specialized in the field of membrane separation and intelligent water treatment solution. Jiarong provides one-stop solutions and project services including consultation, design and construction, maintenance and operation, as well as equipment supplies.
As an intelligent membrane technology company, Jiarong has successfully implemented over 500 engineering projects worldwide in various industries including landfill leachate treatment, high-concentration intractable sewage treatment, flue gas desulfurization, coal chemical wastewater ZLD as of 2021. Jiarong aims to deliver sustainable and efficient solutions that meet the needs and challenges of our customers in various industries throughout the world.
Media Contact
Company Name: Xiamen Jiarong Technology
Email: Send Email
Phone: +86 592 5929 683
Address:No. 1670 Butang Middle Rd
City: Xiamen
State: Fujian
Country: China
Website: https://www.jiarong.com/