Scope Eyecare is utilizing Mr. Checkout's Fast Track Program to reach Independent Pharmacy Stores Nationwide.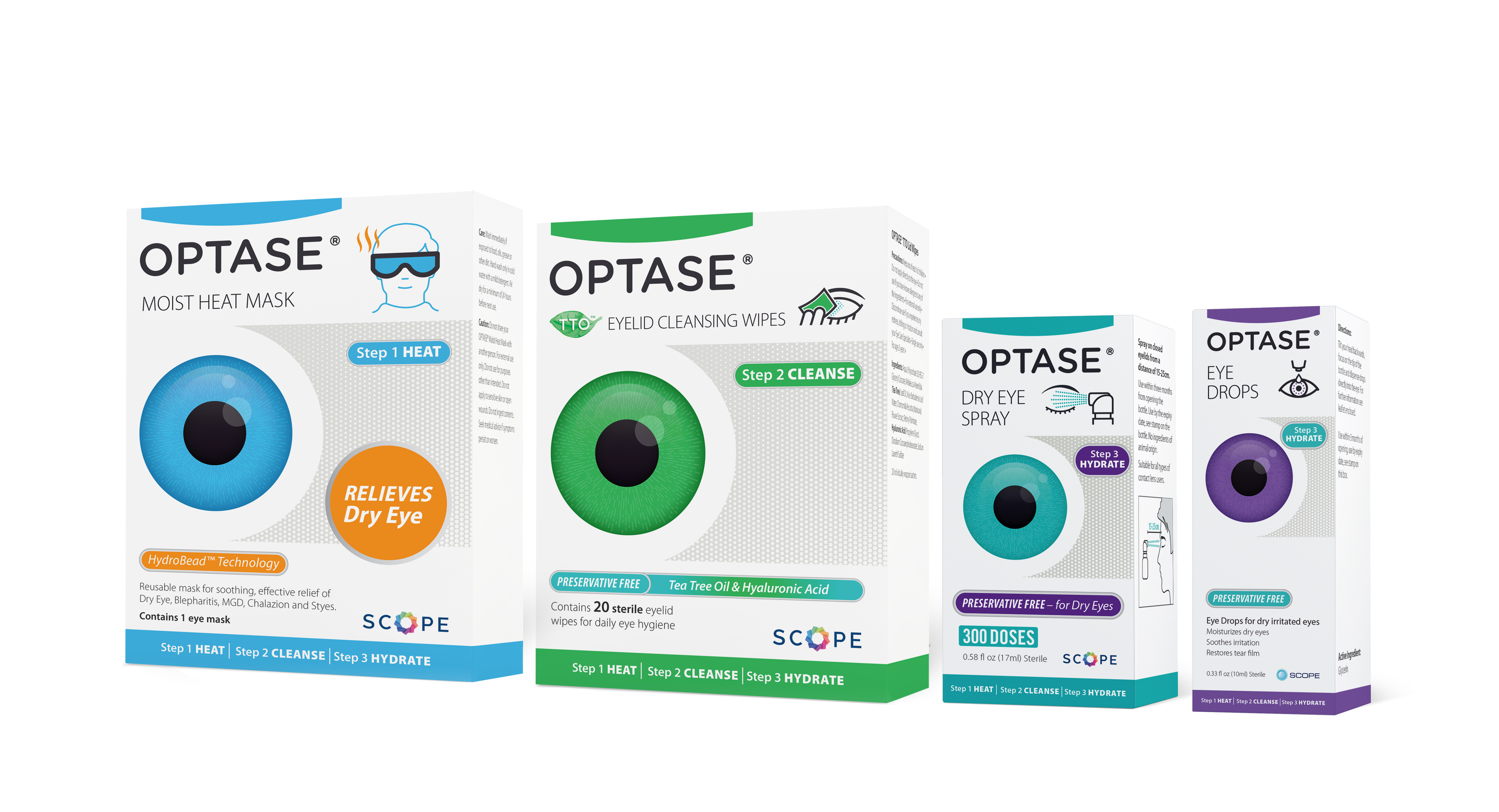 The OPTASE product line, including the Moist Heat Mask, Tea Tree Oil Lid Wipes, Dry Eye INTENSE Drops, and Dry Eye Spray.
OPTASE® is the expert recommended 3-step regimen to help tackle the cause and symptoms of Dry Eyes, Blepharitis and Meibomian Gland Dysfunction (MGD). With contact lens-friendly and preservative-free formulations, OPTASE products alleviate eye redness, irritation, and inflammation through a comprehensive "Heat, Cleanse, Hydrate" approach.
New York, NY – November 24, 2020 – Healthcare company Scope Eyecare today announced its new partnership with Mr. Checkout, a national group of independent direct store delivery (DSD) distributors. Effective immediately, Scope's full range of OPTASE dry eye products will be available to retailers through the Mr. Checkout platform, alleviating supply chain costs and providing streamlined logistics and warehousing support to increase distribution.
"Whether we're working with an independent pharmacy or a local optometry practice, our goal at Scope is to support our retailers and strengthen their business in whatever way possible," said Paul O'Reilly, Scope Eyecare marketing director. "As a family company, we know the value of DSD distributors, and we're excited to bring OPTASE to new audiences through our work with Mr. Checkout."
The partnership will focus on the independent and independent chain pharmacy retail sector, a particular area of emphasis for the OPTASE brand as a growing number of Americans report suffering from dry eye disease (DED) and its corresponding triggers – excessive screen time, seasonal allergies, medication side effects, contact lens use, aging and other risk factors.
The OPTASE products available through Mr. Checkout are designed to alleviate the dry eye symptoms of redness, irritation and inflammation through a comprehensive "Heat, Cleanse, Hydrate" regimen. The entire product line is contact lens-friendly and preservative-free, including the reusable, microwavable OPTASE Moist Heat Mask; OPTASE Tea Tree Oil Lid Wipes for gentle cleansing; the new OPTASE Dry Eye INTENSE Drops for long-lasting relief to moderate to severe dry eye; and the hydrating, easy-to-use OPTASE Dry Eye Spray.
"Between transportation, storage and labor, supply chain costs can be a significant burden, both on our end and for our retailers. By utilizing Mr. Checkout, we're able to ease the process and costs for everyone involved, ultimately making dry eye relief accessible to a broader group of patients and consumers. This partnership allows us to expand into newer areas and grow advocacy in those areas," added O'Reilly.
ABOUT SCOPE:
Scope Eyecare is a healthcare and pharmaceuticals company dedicated to providing healthcare professionals and consumers with high quality, effective and innovative products. Founded in 2009, Scope offers a range of eyecare products for the treatment of Ocular Surface Diseases, including Dry Eye Disease, Blepharitis and MGD.
For more information, visit www.optase.com.
ABOUT MR. CHECKOUT:
Since 1989 Mr. Checkout Distributors, Inc. have been servicing independent retailers, convenience stores and grocers through a group of wagon jobbers (small distributors), merchandisers and wholesale-to-distributor warehouse companies. We are not a franchise. Each route distributor is independent (has complete autonomy) and has full control over his or her own business and full control over all marketing methods.
Media Contact
Company Name: Scope Eyecare
Contact Person: Emma Gillett
Email: Send Email
Phone: 212.576.2700
Country: United States
Website: https://localretailpharmacy.com/featured-item/scope-health/