Meet Erica Lane, "The Money Elevation Strategist," as she Announces "Savvy Money Summer Camp"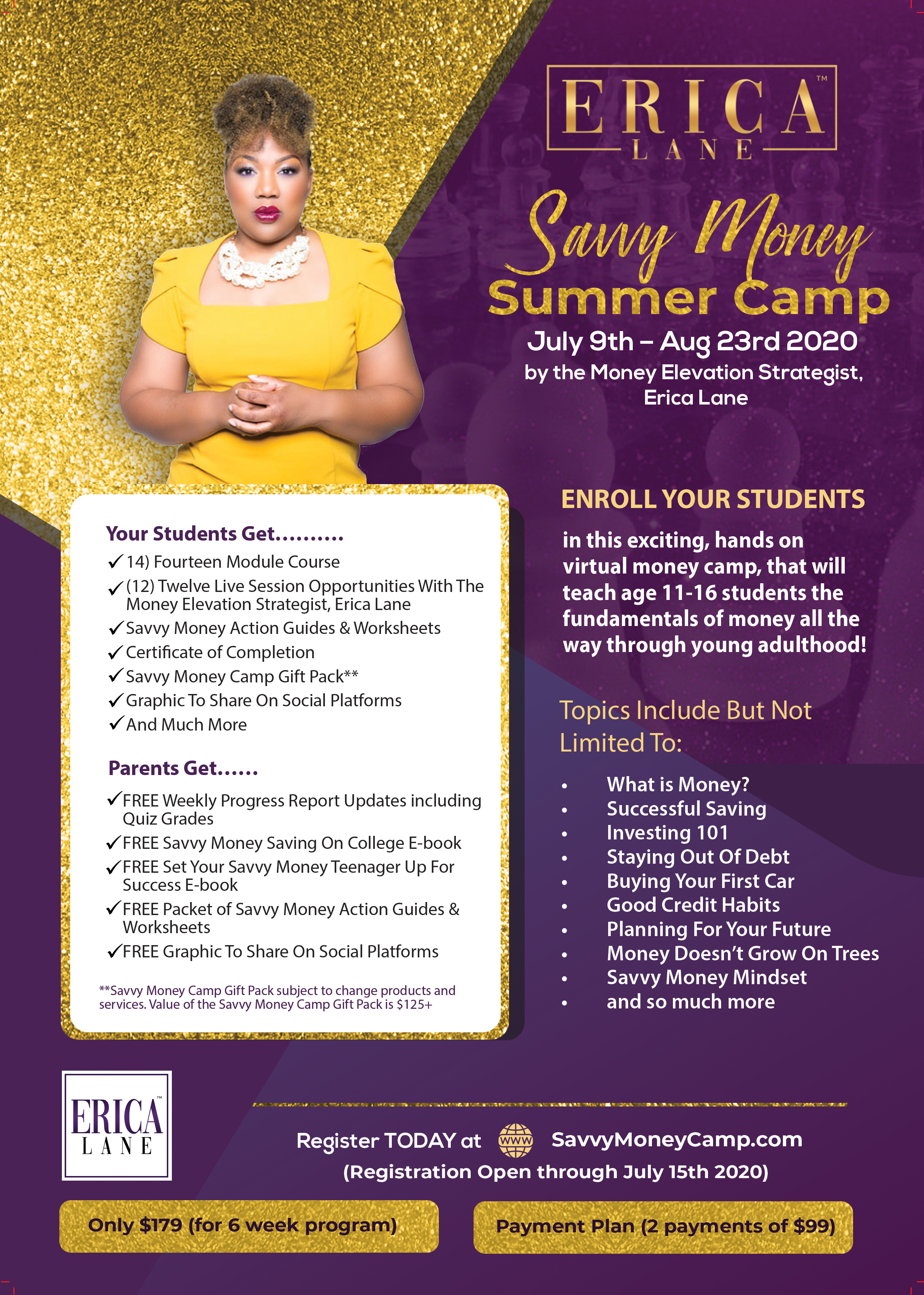 Register TODAY at SavvyMoneyCamp.com for this Outstanding virtual money camp program
July 8, 2020 – Unveiling Erica Lane, "The Money Elevation Strategist" with a highly remarkable level of entrepreneurial and business knowledge. She was born and raised in the financial and fashion capital of the world as she gained a first-hand understanding of business, principles, and methods to succeed in a competitive industry as a Money Coach
"Your relationship with money is just that, a relationship. You have to grow, understand, nurture and build it up. You deserve everything you want in this life. And taking care of your money is your start to getting it. This is where your journey begins." Says Erica Lane
From a quote on the website, which stated, "Time is your best friend or your worst enemy." Owing to this, Erica Lane, the "The Money Elevation Strategist," will be holding an exciting Savvy Money Summer Camp designated to commence from July 9 – August 23, 2020. This is a topnotch hand on virtual money camp that will teach age 11-16 students the fundamentals of money through young adulthood.
Action must be taken to develop the necessary habits to create that massive shift in the world. Erica Lane has designed beautiful topics to reach financial freedom with this virtual money camp meanwhile it's not limited to the following: What is Money?, Successful Saving, Investing 101, Staying Out Of Debt Buying Your First Car, Good Credit Habits, Planning For Your Future, Retire Young, Money Doesn't Grow On Trees, Savvy Money Mindset and so much more
As a professional and outstanding business person Erica Lane "The Money Elevation Strategist" is set to guide as many as possible through this journey so you can tell the financial story of your dreams!
Registration for this intensive six weeks Savvy Money Summer Camp program has commenced and still open through July 15, 2020. Only $179 while two payment plans will be $99 per payment.
These are the exciting benefit Students Get from Savvy Money Summer Camp program
14 Fourteen Module Course
12 Twelve Live Session Opportunities With The Money Elevation Coach, Erica Lane
Savvy Money Action Guides & Worksheets
Certificate of Completion
Savvy Money Camp Gift Pack**
Graphic To Share On Social Platforms
And Much More
Parents also are not left out from this beautiful Virtual program with these benefits
FREE Weekly Progress Report Updates including Quiz Grades
FREE Savvy Money Saving On College E-book
FREE Set Your Savvy Money Teenager Up For Success E-book
FREE Packet of Savvy Money Action Guides & Worksheets
FREE Graphic To Share On Social Platforms
Savvy Money Camp Gift Pack subject to change products and services. Value of the Savvy Money Camp Gift Pack is $125+
Kindly visit www.SavvyMoneyCamp.com and www.iamericalane.com/ for more information
Media Contact
Company Name: IAmEricaLane
Contact Person: Erica Lane
Email: Send Email
Phone: 347-704-7334
Country: United States
Website: www.SavvyMoneyCamp.com