Pepstyle Fashion Private Limited to Disrupt the Fashion Industry with Their Latest T-Shirt Collection
Innovative streetwear company, Pepstyle Fashion Private Limited, set to redefine the concept of fashion with their eco-friendly tees for men and women
June 15, 2020 – Peptees is an apparel company that is looking to give fashion heavyweights a run for their money, with a wide range of t-shirts that will seemingly disrupt the fashion industry, especially when it comes to streetwear fashion. Founded by Adhip R and Rathi R, the goal of the duo is to create a brand that spoke to people on a personal level about how to achieve success, allowing them to use fashion as a form of expression.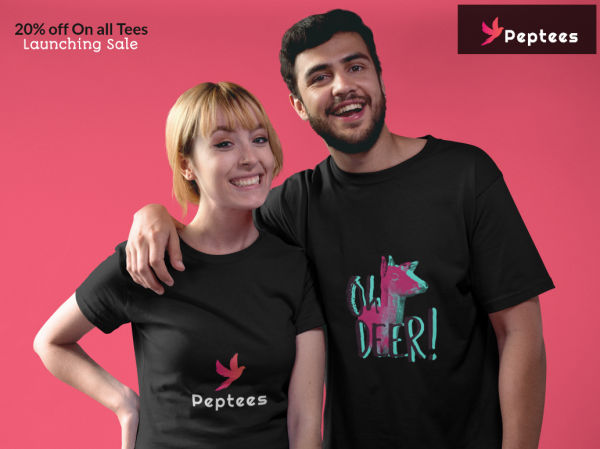 The online fashion retail industry has gone like a rocket plummeting the in-Store purchases look like an old-age. According to Statista, the global online fashion market was worth $533 billion in 2018 and is predicted to grow to $872bn by 2023. The world of fashion has also evolved over the years, with consumers now demanding more of quality than quantity. Consumers now pay more attention to even the smallest details, including the source of the materials and how the products are made. Unfortunately, many of the available fashion companies do not satisfy these requirements, which is where the Peptees brand is looking to make a difference.
Peptees is the first brand from Pepstyle Fashion Private Limited and is launched in line with the company's goal of making the world a better place through clothes. Peptees currently offers a wide range of collections across different categories, including men, women, and unisex. Peptees is looking to redefine the T-shirt manufacturing and retailing industry, creating a unique clothing experience that includes joy, happiness, and satisfaction to customers worldwide.
Each product from the brand is made with 100% combed cotton to deliver utmost comfort. The brand also takes t-shirt printing another level, using UV printing to deliver the best prints that do not fade or spill, offering durability and comfort. Some of the categories of the designs provided by Peptees are Abstract, Animals, Anime, Apocalypse, Art, Cool, Festivals and Events, Food and Drinks, and Gothic.
In line with the brand's goal of transforming the online fashion retail industry, Peptees also has a fashion mobile app for android users that allows fashionistas to shop on the go.
For more information about Peptees and their range of products, please visit – https://www.peptees.com/. Peptees also has a relatively strong presence on social media and can be found on Facebook and Instagram.
Media Contact
Company Name: Pepstyle Fashion Private Limited (Peptees)
Contact Person: Adhip R, Managing Director
Email: Send Email
Country: India
Website: [email protected]