UK Magician Magically Turns His Passport into an Irish One So He Can Continue Performing

London – February 24, 2020 – Brexit has brought uncertainty to a large number of professions. On the 31st January, 2020 (the Brexit Day), Keelan Leyser, a magician from London, did the impossible – he magically turned his UK passport into an EU Irish one so he can continue performing his shows visa-free in the EU.
Watch Keelan turn a UK passport into an EU one in an instant, right before your eyes: https://www.instagram.com/p/B8AAYdnBTA5/
Keelan Leyser took matters into his own hands by magically turning his UK passport into an Irish one at the blink of an eye, stunning his over hundred thousand Instagram followers. Keelan says he has received many messages from other performers asking if he could do the same for them.
The magic trick comes at a time when performers and bands from the EU are concerned whether they will be able to tour or perform in the UK without written approval or a visa. Likewise, the UK performers are unsure about how they will be affected when it comes to performing in the EU.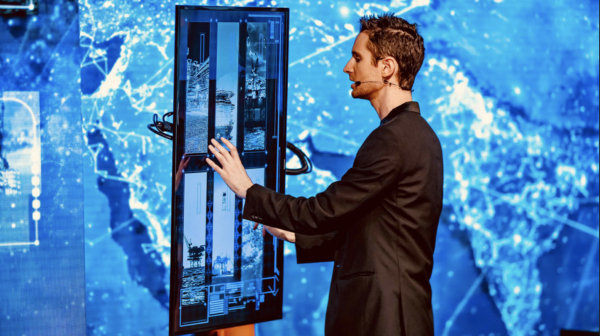 "Due to Brexit, performers, musicians, magicians, and athletes are uncertain about how Brexit will affect them with regards to working in the EU member states and vice-versa. So to combat this problem for me, I magically turned my UK passport into an Irish one so I can continue performing visa-free in the EU," says Keelan.
Performers and music bodies have advised the government to spell out its proposed immigration rules. Unions are requesting for a reciprocal, two-way visa scheme, which would permit access to perform in all EU member states.
Keelan is 'Tech Magician'. He performs magic with technology and gadgets such as iPads, drones, Virtual Reality, artificial intelligence, and robotics. Keelan calls himself a "Digital Illusionist", a new breed of magician that performs with the latest technology.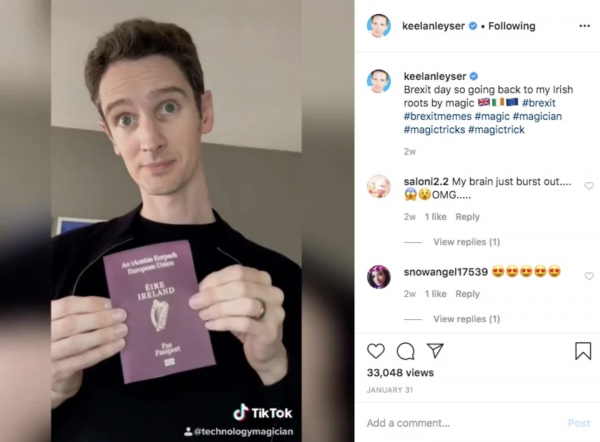 Internationally famous Psychic Uri Geller, and friend of the late singer Michael Jackson, said, "Keelan Leyser is one of the most amazingly talented Hi-Tech Digital magicians that I have ever seen! Keelan's incredible speed of light skills, his charisma, and stage presence are mesmerizing".
Originally from London, Keelan currently lives in Las Vegas but has performed in over 60 countries. Hence free movement in the EU member states for a performer like him is extremely important, as well as to the livelihood of many artists.
About
Keelan Leyser is one of the world's pioneers of Digital Technology Magic! Voted the "British Magic Grand Prix Champion" by his peers at the largest magic congress in the World in Blackpool, England, Keelan Leyser has performed in over 60 countries, appeared on over 100 television shows, and his YouTube clips have been viewed tens of millions of times! Keelan has over a hundred thousand followers on Instagram and nearly half a million on Tiktok, the fastest growing social media platform.
Go to https://keelanleyser.co.uk to find out more about Keelan.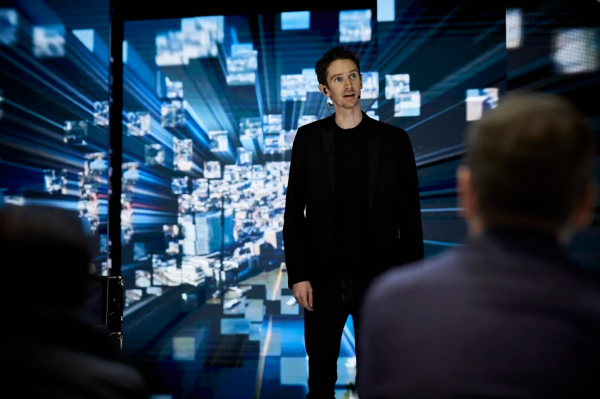 Instagram: https://www.instagram.com/keelanleyser/
Tiktok: https://www.tiktok.com/@technologymagician
Media Contact
Contact Person: Keelan Leyser
Email: Send Email
City: London
Country: United Kingdom
Website: https://keelanleyser.co.uk/