Forum Energy Technologies Removed 90 Percent of Forklifts Thanks to Topper Industrial Carts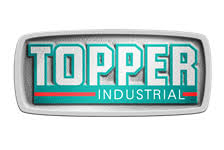 Bridget McCrea, editor of Modern Materials Handling recently reported how Forum Energy Technologies, a customer of Topper Industrial, the leading industrial cart provider, substantially improved with internal cart delivery.
Last year, Forum Energy Technologies production plant was getting close to running out of capacity. The plant revolved around a traditional manufacturing mindset, where a forklift is used to bring parts to one worker, who proceeds to build all of the necessary items for the valve. But that setup did not work so well when the plant's business increased significantly.
The company focused on cutting down its use of forklifts and instead using industrial carts that could be easily transported to and from its employees' workstations throughout the course of the day. Forum Energy Technologies' transition to using carts over forklifts started with a trip to a Milwaukee plant where a team of employees worked with Topper Industrial cart manufacturer to come up with design solutions.
Forum Energy Technologies has removed about 90% of the forklifts that were previously moving around the plant's open floor area. The company eliminated the top-three safety hazards in its production area, which were: forklift traffic, pressure testing and lifting/rigging. With no forklift traffic to worry about, it also redesigned its pressure-testing process to eradicate potential safety hazards. And, operators no longer have to physically manipulate heavy valves; they just let the rotating carts handle that work thanks to the innovations of Topper Industrial.
To read more, go to: http://bit.ly/2BcHJsj
About Topper Industrial
For more than twenty years, Topper Industrial, (www.TopperIndustrial.com) based just outside of Milwaukee, WI, has been a leader in the material handling equipment industry. The company's product roster features industrial carts, conveyors, lifts, lifts & tilts, shipping racks, containers, casters, and cart components. From mother-daughter carts to quad steer carts to tilt carts and rotate carts, Topper's material handling solutions make delivering material line side more effective through more efficient practices. Topper Industrial has a team of experienced professional experts able to assess and provide the right product for all material handling equipment requirements.
Topper Industrial is a proud member of MHI. The Topper Industrial client roster includes Anderson Windows, Detroit Diesel, Honda, Kia Motors, Ford, Chrysler, Aramark, Johnson Controls, Whirlpool, and Caterpillar. Follow on Twitter @TopperInd. Call 800-529-0909.
Media Contact
Company Name: Topper Industrial
Contact Person: Jillian Burrow, Marketing Manager
Email: Send Email
Phone: 262-886-6931
Address:1729 NE Frontage Road
City: Sturtevant
State: Wisconsin
Country: United States
Website: www.topperindustrial.com