Dr. Daryl D. Green Receives 2022 ACBSP Region #6 Best Presentation Award
Leadership development expert and award-winning author, Dr. Daryl D. Green, along with his co-presenter Dr. Tracy Dunn of Benedict College, receives the 2022 ACBSP Region #6 Best Presentation Award.
KNOXVILLE, TN – November 29, 2022 – Dr. Daryl D. Green, Associate Professor of Business, Oklahoma Baptist University, and his co-presenter, Dr. Tracy Dunn, Business Dean, Benedict College, were named as regional award recipients of the 2022 Best of Region Presentation Award. The Accreditation Council for Business Schools and Programs (ACBSP) recognizes individuals each year who exemplify teaching excellence in the classroom. Region #6 is comprised of universities and colleges from Arkansas, Louisiana, New Mexico, Oklahoma, and Texas.
Dr. Green and Dr. Dunn bring a combined more than 30 years of academic experience in engaging students toward greater learning outcomes.
In this entertaining presentation, participants learned more about Gen Z students and how to leverage more student-engaging activities to produce greater learner outcomes. Most students can benefit from practical applications of theory. Dr. Green explains, "I think we are underserving our students as educators if we do not understand their learning styles and make adjustments."
At the conference, Dr. Green shares teaching strategies with the audience.
Using games, Dr. Green provided hands-on experience to participants.
Today's Gen Z students need more "hands on" real world exposure to connect classroom theories. Some of these engagement projects with students can be viewed at https://youtu.be/P1gQTh9gOmw.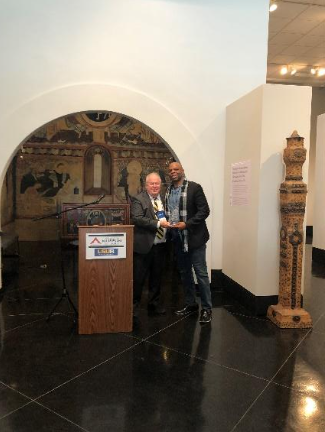 Dean Dr. Randall Dupont of LSU-A, presents Dr. Green with the presentation award.
Dr. Green celebrates his award with fellow Louisianan, Ashley Nelson (LSU-A).
For more information, please contact Estraletta Green at [email protected]
About AGSM LLC
AGSM Consulting LLC provides consulting, guidance and management training for today's small businesses. Estraletta Green and Dr. Daryl D. Green formed their consultancy, which is based in Tennessee. Additionally, Dr. Green is the Dickinson Chair of Business in the Paul Dickinson College of Business at Oklahoma Baptist University. AGSM LLC offers a full menu of services for business owners, depending on their particular business needs. The company focuses on new and start-up businesses, preferably in the earlier stages of operation.
For more information, please visit www.agsmconsulting.com.
Media Contact
Company Name: AGSM Consulting, LLC
Contact Person: Estraletta A. Green
Email: Send Email
Phone: +1 (865) 602-7858
Address:5322 Lance Drive
City: Knoxville
State: TN 37909
Country: United States
Website: https://www.drdarylgreen.com/