New book "As a Fool and Her Love Were Parted" by ResurrecSis is released, a raw and vulnerable poetry collection that examines broken relationships, love, and meaning through the burden of grief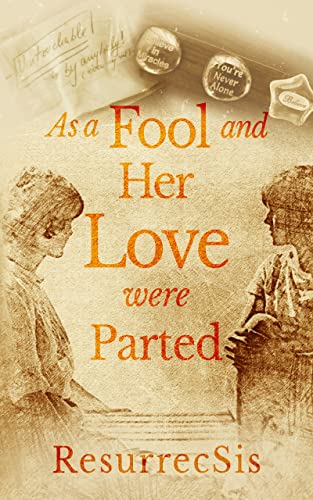 "As a Fool and Her Love Were Parted" by ResurrecSis has been released worldwide. This 319-page collection of poetry focuses on times of tragic loss, when navigating the arduous process of deconstructing emotional baggage around damaged relationships make acceptance and self-love seem impossible. The book has achieved bestseller status in several Amazon categories: #1 in Death, Grief, & Loss Poetry, #1 in New Releases of Women's Poetry, #1 in Poetry About Death, and #2 in Women's Poetry.
The lyrical and compelling poems cover a broad range of topics and imagery, occasionally infused with flashes of humor and sharp remarks about the outside world, but remain centered around the author's quest to deal with grief, anger, frustration, and trauma. Through cathartic expression and beautifully crafted language, the poetry offers readers a new way to experience their own emotional turmoil, as well as a glimmer of hope for weathering difficult times.
ResurrecSis composed these poems during a time of deep personal loss – the death of her only sibling – and used the writing process to unearth repressed feelings, explore difficult questions with raw emotional honesty, and process troubling survivor's guilt. Respecting her sibling's last wish led the author to forgo affirmation and to use a pseudonym to publish this work.
Writing became the opportunity to freely express the confusing, intertwined feelings that carried on, brought to the surface by catastrophic loss and new bouts of grief and helplessness.
Not everybody is born with a golden spoon, and some must perpetually sacrifice to achieve a sense of normalcy. Such is the case with the author, except that there is a price to pay, or maybe not a price, but something that was just meant to happen. This is also what she is trying to find out. Is tragedy a price to pay for not giving every attention to the one who meant the world to her, or was everything just meant to end like this, anyways?
With themes of exploration and healing, combined with an unabashedly honest portrayal of grief's unpredictable whirlwind, the poetry refuses to shy away from pain. The underlying message throughout is to examine relationships deeply, and to prioritize them while we can.
Readers of all backgrounds will find something to identify with in this collection, and for those suffering recent losses of their own, these heartfelt poems offer a path to gaining a deeper understanding of complex, overwhelming emotions.
As a Fool and Her Love Were Parted (ISBN: 9781958729045) can be purchased through retailers worldwide, including Barnes and Noble and Amazon. The paperback retails for $16.95. Wholesale orders are available through Ingram. Review copies and interviews are available upon request.
From the back cover:
A medical doctor and researcher, ResurrecSis finds herself at a juncture when rationalization loses its footing in the face of personal tragedy. The poetry in this collection is a reflection of the painful introspective journey the author has taken as she examines grief, survivor guilt, physical separation, and faith.
It is through these unfiltered and unedited poems that the reader understands how she processes her thoughts on topics that go far beyond the grief and shock triggered by the sudden death of her only sibling. It includes memories, regrets, and existential questions. All of these emotions are felt under a nurturer's pressure to rebound while honoring love and the promise of keeping a secret.
The difficulty with the last: forfeiting emotional validation. The motivation: love deserves that sacrifice. The result: from the writer's internal audience: "As a Fool and Her Love Were Parted."
About the author:
ResurrecSis considers herself an accidental poet who found an expressive outlet by encapsulating her thoughts and feelings in a collection of verses following the devastating loss of her only sibling, her younger sister.
At once, the author is a medical doctor who wished to save her sister, a researcher who hoped to better understand her sibling and the purpose of her own life, a mother who wanted to move past grief to be able to wholly parent again, and a comedian in search of levity. But as a loving older sister, she could not let go.
Born in the Balkans, the author has spent her adult life in the U.S., where both siblings became medical professionals. Her professional endeavors and marriage took the author for almost two decades to the East Coast, while her younger sibling practiced and married on the West Coast. They shared a dream: to not be apart. That dream became a reality when the author moved back to the West Coast after her younger sibling's husband lost his long, brave battle with cancer. The author navigated life with its expected and unexpected challenges until it was changed forever by the sudden death of her sister on Christmas Day, not long after they reunited. Beyond expressing herself through poetry, ResrrurecSis has integrated music, which was her first passion, as a way to deepen the meaning of her words. "Empty House," one of her poems from this collection, was adapted into a song and performed by Austin Brown, a member of the a cappella group Home Free.
About NH book publisher Seacoast Press: 
NH book publisher Seacoast Press provides authors with traditional-quality book publishing services while allowing authors to retain publishing rights and 100% royalties. Seacoast Press' wide variety of publishing services includes book design; editorial; printing; distribution; publicity; and marketing. Seacoast Press books are available through retailers and booksellers worldwide. All Seacoast Press books can be purchased wholesale through Ingram.
To learn more about Seacoast Press, the premier book publisher in NH, visit http://www.seacoastpress.com/.
Media Contact
Company Name: SeacoastPress.com
Contact Person: Jen McNabney
Email: Send Email
Phone: 603-546-2812
Address:1 New Hampshire Ave Suite 125
City: Portsmouth
State: New Hampshire
Country: United States
Website: https://www.seacoastpress.com/