Kamilya Lahlou's New Mommy & Me Clothing Line, GKL Apparel Brings Luxury Clothing Options to Mothers and Daughters Worldwide
November 29, 2022 – Kamilya Lahlou, influencer and founder of GLK Apparel, has announced the official launch of her new clothing line, GKL Apparel for Mommy & Me. The Mommy & Me line is expected to set new and exciting standards in fashion for the modern mother and child.
Created to bring a collection of luxury clothing to mothers and daughters around the world, GKL relies on the same quality fabrics and materials used in runways around the world. The GKL Apparel Mommy & Me designs have been curated to be modern and fashion-forward, and each piece in the collection was personally inspired by Kamilya Lahlou. Current apparel is suitable for any occasion, including everyday living or fancy nights out. The line includes a comfortable jog set, a two-piece crop sweater and short set, and a beautiful ruffle dress that will stand out at any social event.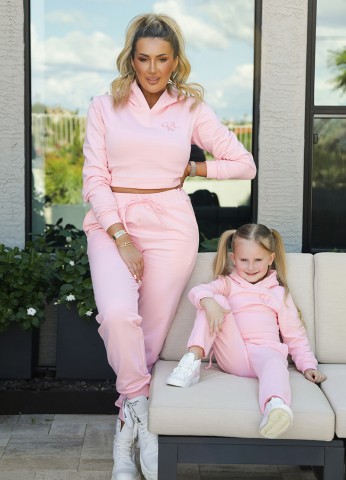 More styles and clothing options are expected to be released as part of the GKL Apparel Mommy & Me line in the coming months. Each collection will embrace edgy takes on trends happening in the fashion industry to set women and daughters apart from the rest and inspire a new generation of confident women and young girls.
"As a minority, female-owned, and all-female-employed business, GKL Apparel is not just a clothing brand, but a movement dedicated to inspiring women and girls to look classy and feel strong," remarked Kamilya Lahlou, Founder of GLK Apparel. "We are excited to announce the release of our highly-anticipated GKL Apparel Mommy & Me line. Mothers and daughters can now find unique, luxury clothing styles and the confidence they deserve," she added.
Founded by Kamilya Lahlou, a fashion influencer and entrepreneur, GLK Apparel is committed to innovating unique clothing styles that inspire women and girls to feel empowered through their natural beauty. Created in the midst of the COVID-19 pandemic, Kamilya strived to change the landscape and inspire a new generation of mothers and daughters through the GKL Apparel business as a self-proclaimed "momfluencer" destined to revolutionize the fashion industry.
GKL Apparel is the initials of her daughters.
To learn more about GLK Apparel Mommy & Me, please visit GLKApparel.com and shop the current collection.
Media Contact
Company Name: GLK Apparel
Contact Person: Kamilya Lahlou
Email: Send Email
Country: United States
Website: https://gklapparel.com/