H2, a brand of Mutant Technology Co., launches its Tesla Model 3 /Y Accessories USB Hub Docking Station on Kickstarter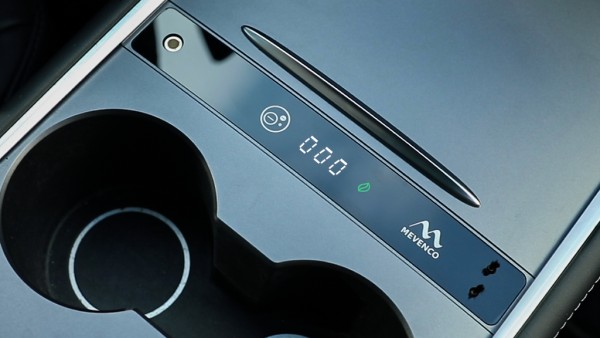 H2, a Mutant Technology Co., Ltd. brand focusing on intelligent control products for electronic car equipment, is introducing its Tesla Model 3 /Y Accessories USB Hub Docking Station.
The Tesla docking station was designed with negative ions purification to remove harmful gases from the car, a hidden charging port to keep the car tidy, and an explosion-proof glass mirror/Digital display, all designed to create a healthy and simple life for Tesla owners.
The H2 Tesla docking station's air purification function can monitor the air quality in the car in real-time, accurately display the PM2.5 value in the car, and release negative ions. The negative ion generator can quickly remove heavy smoke from the car. The particle molecules keep the air fresh and ensure the health of the passengers. This is especially suitable for the needs of smoking drivers and passengers.
The negative ion generator can effectively activate the oxygen molecules in the air to make it more active and easily absorbed by the human body. This improves pulmonary function, activates various enzymes in the body, and promotes metabolism.
The Tesla docking station comes with two hidden mobile phone charging cables. This patent-pending design can make the car's interior tidy, providing the ultimate art of space storage.
The length of the retractable charging is enough for most drivers and passengers. The two interfaces are the TYPE-C interface and the iPhone charging interface, which fit most electronic devices' charging ports on the market. Each charging port supports 16V fast charging mode.
Compared with the metal shell, the H2 Tesla docking station can eliminate the risk of electrical conduction. The ABS material used in the design can easily dissipate heat and withstand high temperatures.
The glass of the H2 Tesla docking station adopts hot bending technology, which enables the glass to have functions of explosion-proof and wear-resistance while maintaining a certain curvature of beauty.
About Mutant Technology
Mutant Technology Co., Ltd. is a science and technology enterprise that researches and develops small electrical intelligent control products and has a senior R & D team with quick response and professional R & D capabilities. The company provides a variety of imaging or video, field monitoring, vehicle equipment control products, and services with superior performance and in line with the certification in a short time.
To find out more about the H2 Tesla docking station, check out the company's page on Kickstarter
Media Contact
Company Name: H2
Contact Person: Denby Ades
Email: Send Email
Country: China
Website: https://www.kickstarter.com/projects/1925521641/tesla-model-3-y-accessories-usb-hub-docking-station?ref=55taf3&token=be4eca5b