Vestibular Disorder Association (VeDA) announces Sept 18-24 as its Balance Awareness Week in 2022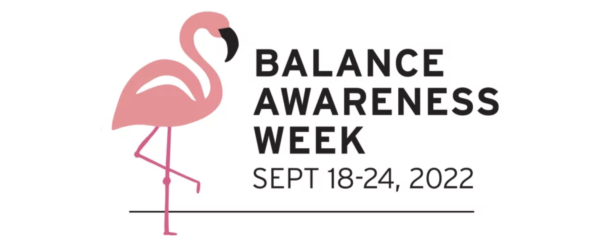 Vestibular Disorders Association (VeDa) is pleased to announce that its 2022 Balance Awareness Week will take place from September 18-24, 2022. Veda encourages the vestibular community to band together and amplify a collective rally cry for public support. The campaign's objective is to increase awareness of "vestibular" so that patients can receive prompt diagnosis and effective treatment and gain the compassionate care they need and deserve from friends, family, and others.
Veda's Balance Awareness Week, established in 1997, is an annual week-long campaign to increase knowledge of balance-related vestibular disorders. Making "vestibular" visible enables quicker diagnosis and more efficient treatment of patients. Although many balance disorders are incurable, those who experience them can hugely improve their quality of life with a faster and more accurate diagnosis and helpful coping mechanisms.
The vestibular system includes the parts of the inner ear and brain that process sensory information involved with balance. At some point in their lives, more than 35% of US adults 40 years of age and older have experienced vestibular dysfunction.
According to experts, Vestibular disorders can result from sickness, trauma, drug or chemical poisoning, autoimmune conditions, traumatic brain injury, aging, or host or other factors. Numerous vestibular disorders have unknown origins. Dizziness, vertigo (a spinning sensation), imbalance, tinnitus (ringing in the ears), fatigue, jumping vision, nausea/vomiting, hearing loss, anxiety, and cognitive challenges are all signs of vestibular disorders. Vestibular disorders are challenging to identify.
The experiences of those who overcame their disability can inspire those currently coping with this illness. Johan, an ambassador for Veda, is one of them. Johan, also known as "the chappiness guy," has learned to adjust to this new situation. He began his journey toward recovery while receiving daily support from three different types of medication, as well as from meditation, exercise, dietary restraints, and lifestyle changes.
Johan currently hosts a YouTube series called Vestibular Talks, in which patients and medical professionals discuss how chronic illnesses affect the quality of life of patients and their loved ones. Johan serves as a representative for the Organization for Vestibular Disorders.
Video Link: https://www.youtube.com/watch?v=so__0KnK_8Q
Another fine example is Camille, who suffered a traumatic brain injury in a freak household accident that altered her life forever. Camille was a lawyer and an accomplished expert in foreign policy. Prior to her accident, she worked in diplomacy for almost ten years, traveling to over twenty countries for meetings and projects with embassies.
Camille suffered with daily disabling dizziness for more than four years without answers or a diagnosis. Concerning the event, she states: "As a traumatic brain injury survivor, I want to raise awareness about people like me who suffer from invisible debilitating disabilities, so they can realize they don't have to suffer in silence, they are not alone and living a new normal with physical limitations or diminished capacity still can be beautiful and fulfilling."
ABOUT VeDA

VeDA is the leading international organization for people seeking assistance with vestibular (inner ear and brain) disorders. They are an authoritative resource, publishing information that is clear, reliable, and scientifically objective.VeDA connects people with vestibular disorders to health care specialists and support networks. Through testimony and advocacy, VeDA raises awareness about vestibular disorders.
Visit www.vestibular.org for more information.
Media Contact
Company Name: VeDA Ambassador
Contact Person: Camille Jackson
Email: Send Email
Country: United States
Website: https://vestibular.org/