New book "Life with MIL" by Lisa Davenport is released, a touching memoir about caring for a loved one with Alzheimer's, the power of humor, and embracing silver linings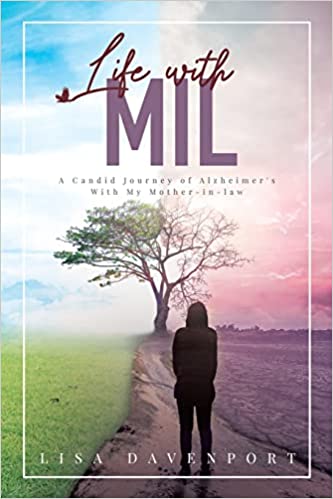 "Life with MIL: A Candid Journey of Alzheimer's with My Mother-in-Law"" by Lisa Davenport has been released worldwide. This 320-page memoir chronicles the author's experiences as a caregiver, support system, and dear friend through her mother-in-law Rosemary's struggle with Alzheimer's. As an entrepreneur, designer, and mother with a full plate of responsibilities, Lisa's life changed unexpectedly when she took on another role: caring for her mother-in-law. A journey through Alzheimer's is often tragic and riddled with difficulty, but through a powerful connection of unwavering love, the unlikely pair of mother-in-law and daughter-in-law are able to find humor, joy, and hope that serves as inspiration for anyone living with a similar situation.
The memoir draws readers into Rosemary's daily fight with the disease and the bright moments that bring the family together, showing the strength they find in vulnerability, honesty, and love. Sharing this story with the world was one of Rosemary's greatest wishes, and this window into the life of a caregiver is empowering and inspirational for anyone striving for balance in difficult times.
Life with MIL (ISBN: 9781958729076) can be purchased through retailers worldwide, including Barnes and Noble and Amazon. The paperback retails for $19.99, and the ebook retails for $4.99. Wholesale orders are available through Ingram. A portion of the proceeds from Life with MIL will be donated to the Alzheimer's Association.
From the back cover:
Life with MIL is a story thirty-one years in the making. It's a story of friendship, respect, unwavering love, and incredible heartbreak. In Life with MIL, Lisa Davenport takes her readers along with her and her mother-in-law, Rosemary, on their journey through the ups, downs, twists, and turns of life with Alzheimer's. Lisa made a promise to Rosemary to tell their whole story, to do what she could to help others on the same journey. Rosemary truly felt that helping others was her way of using this disease for the better. Whether you are fighting against this disease alongside your own loved one or know someone who is, Life with MIL will help you realize you are not alone, and that it's okay to laugh sometimes. Every time someone picks up this book, a piece of Rosemary's wish to help others is fulfilled as her story brings them a little comfort.
About the author:
Lisa Davenport has been telling stories through fine custom interiors and exteriors for more than twenty-five years. After all, great designs tell a story.
In 2012, while her mother-in-law was slipping away from her into the depths of Alzheimer's, Lisa started sharing their journey as random Facebook posts. She never expected those short little stories would be so well received. So well, in fact, that numerous followers and friends, including her mother-in-law, encouraged her to write a book. As a dyslexic, Lisa was crippled by fear when it came to writing. How could she write an entire book? Believing it truly does take a village, Lisa surrounded herself with those who could guide her through the process while still preserving her own signature on the design of this very important story.
About Manhattan Book Group:
Manhattan Book Group ("MBG"), located on Broadway in New York City, is a registered trade name of Mindstir Media LLC. MBG is widely known as a premier hybrid book publisher. We have combined the best of traditional publishing with the best of self-publishing to provide authors with the "best of both worlds" in a sense.
To learn more about MBG, visit https://www.manhattanbookgroup.com/
Media Contact
Company Name: Manhattan Book Group
Contact Person: Jen McNabney
Email: Send Email
Phone: 212-634-7677
Address:447 Broadway 2nd Floor #354
City: New York
State: New York
Country: United States
Website: https://www.manhattanbookgroup.com/