Phenomenal Romance Novel, Giveth & Taketh, Takes Readers on a Rollercoaster of Emotions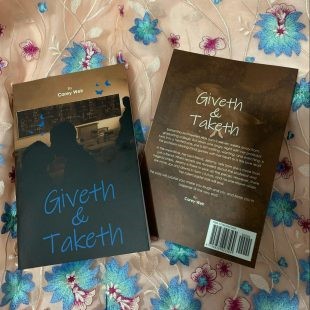 Indiana – Romance novel Giveth and Taketh is set to take you on a journey of love and heartache, hope and doubt, with its staggering characters, incredible drama, unbelievable romance and so much more. The book is available exclusively on Amazon & Kindle in eBook and paperback formats.
Giveth & Taketh is a belly-tickler, goosebumps-giver, tear-jerker contemporary tale of a straight-A college student Samantha McPheeters who's struggling to do well in Sociology. With graduation day approaching, her new, attractive Sociology professor has dominated her mind with his annoying, cold, heartless demeanor. But Samantha has determination and knows how to stand up for herself, that is, until one angry night, everything changes and nothing between the teacher and student remains the same.
In the meantime, Sam's best friend, Jeremy, can't keep his love for Samantha a secret. It's a shocker for Samantha, who suddenly has two men in her life who are head-over-heels for her. The question is, what will Samantha do when she learns some crushing secrets about the professor and Jeremy is there holding the fragments of her heart?
Our protagonist is torn. This novel takes the readers on a ride with its continuous ups and downs, keeping the readers clenching the book a little tighter by the page. Author Carey Weir has penned this story, engineering tears, laughs, gasps, highs and lows that will make you binge-read this book. Things can go in any direction until the last page in this once-in-a-lifetime kind of a romance novel.
"Couldn't put the book down. It just keeps drawing you in," said Mel. Another reader reviewed, "Giveth & Taketh brings tears to your eyes along with the feeling that happy things do happen in life." Beth states, "If you like to add some heat in your home, this one definitely will bring the steam."
The author, Carey Weir, lives in a small town in Indiana, with her husband, where she owns and operates a small business. They have two children who continue to teach her about love, laughter, heartache, forgiveness and strength. With more romance novels in queue, Carey aspires to hit all your buttons, get under your skin, and makes you crave more.
For more information about Giveth & Taketh and Carey Weir, please visit www.careyweir.com, or email the author at [email protected].
Media Contact
Contact Person: Carey Weir
Email: Send Email
Phone: 5749529506
Country: United States
Website: https://careyweir.com/