Recepta to win TeknoFest Startup Summit 2022 – One of the largest Tech Event of Middle East,
Recepta, a new digital startup headquartered in the United States, recently won the "Teknofest Takeoff 2022 Summit", which is one of the biggest startup events in the region that brings together startups, VCs, accelerators, and corporations from all over the World for a non-stop innovation.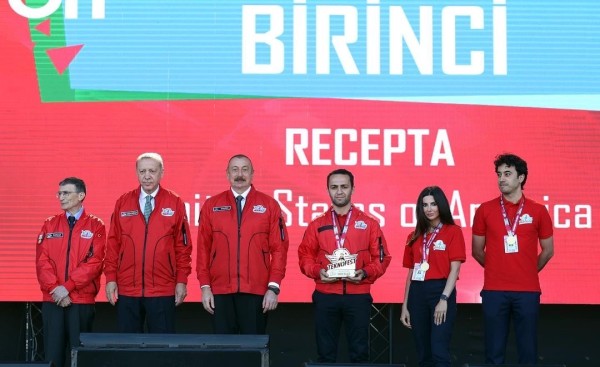 The competition involved 50 startups from different countries. The criterias were very strict and involved innovative, sustainable, and technology friendly companies. Recepta took First place among all startups and received the award from the president of Republic of Turkey Recep Tayyip Erdogan, President of the Republic of Azerbaijan Ilham Aliyev, and Nobel Prize-winning Turkish Scientist Prof. Dr. Aziz Sancar.
Selcuk Bayraktar, who is the chief technology office of Turkish technology company Baykar and chairman of Teknofest, was one of the speakers at the conference. He showed a huge interest in Recepta and congratulated us for being the winner. He suggested launching the project in Turkey soon and broaden the areas.
Teknofest Take Off International Summit has already become the largest and prominent gathering of VCs, startups, businesses, and entrepreneurs that triggers innovation and technological advances. Becoming the winner of such a wonderful event is a big honour and indicator for Recepta to work on future success and open globally. Considering the fact that the Summit relies on sustainable technologies, it is much more encouraging for Recepta to work towards its goal of saving the trees. As mentioned before, Recepta's main aim is to eliminate the paper receipts and the related problems within. Paper receipts are non-recyclable and their production process requires millions of trees, gallons of oil and water. So, Recepta does not only ease the purchase process, but also saves the environment and resources.
Taking all factors and recommendations into account, Recepta will continue to progress and save the World with sustainable actions.
"We are on a mission to eliminate the need for paper receipts, reduce carbon footprint and save the environment," states Recepta Co-Founder & CEO – Rauf Heydarli who previously served at Lyft, Hitachi and EY.
About Recepta
Digital receipt providing company that automates the creation and collection of receipts in a single mobile app. Raised 250k on a pre-seed round, Recepta provides digital receipts for large grocery chains and brands like McDonalds, Gucci, Hugo Boss. Visit www.receptapp.com to learn more about the benefits Recepta creates for merchants and customers.
Media Contact
Company Name: Recepta
Contact Person: Rauf Heydarli
Email: Send Email
Country: United States
Website: https://www.receptapp.com/