Simplifying Calculation Releases New Software Application For Small Businesses -Equipment Loan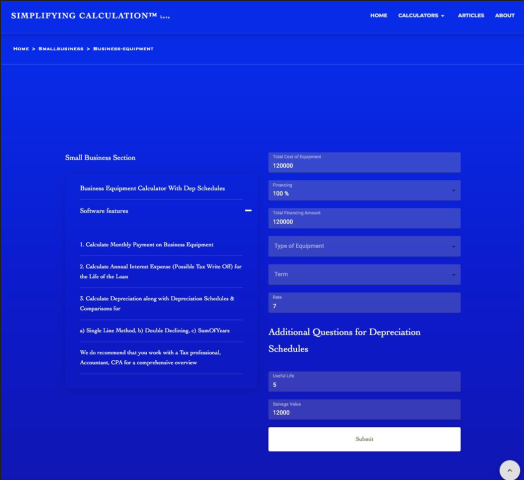 Silicon Valley, California-based tech startup, Simplifying Calculation, announces the launch of a new online application/software that enables small businesses to calculate details on a business equipment loan along with estimating depreciation expenses, while still in beta.
The team at Simplifying Calculation is staying true to its slogan – "Powering Finance Through Simplicity" by delivering custom software and tech-driven solutions for consumer finance and small business as the Silicon Valley company recently announced the launch of its Business-equipment loan calculator. The solution is one of the several applications that the company is building to help small businesses in particular to enhance their financial understanding, operations, and productivity through tech/software-based solutions.
Technological advancements have undoubtedly shaped the way businesses and even individuals operate and interact. Over the years, a plethora of business software applications has been developed by tech companies to help clients deliver a better experience to their target audience. However, more needs to be done in the aspect of consumer finance as well as serving small businesses, particularly as many of the available solutions are relatively exorbitantly priced. Consequently, Simplifying Calculation is looking to change this narrative, a claim substantiated by the recent launch.
The Small Business software application has a user-friendly interface allowing for easier navigation through the different fields and estimating different aspects of financing an equipment loan. Features of the application include:
• Calculation of monthly payment on business equipment along with amortization table,
• Annual interest expense for the entire duration of the loan,
• Depreciation schedules and comparisons for different methods of calculating depreciation expenses.
In addition to the recently launched calculator, Simplifying Calculations also creates applications for Personal Finance, Residential Lending, and Dividend Investor, all designed to meet the needs of small businesses and individuals.
For further information about the new application from Simplifying Calculation, visit – https://www.simplifyingcalculation.com/smallbusiness/business-equipment and other solutions for Small Businesses https://www.simplifyingcalculation.com/smallbusiness
About Simplifying Calculation
Simplifying Calculation is a startup based in Silicon Valley, California that aims to help simplify the calculation that is inherently a part of any financial transaction. The new enterprise offers solutions for personal finance, small businesses, and investments, helping users understand the various complexities in the field of Consumer Finance and Small Business.
Visit: https://www.simplifyingcalculation.com/
The company believes that people should view their finances as a source of strength rather than as a source of stress.
Media Contact
Company Name: Simplifying Calculation
Contact Person: Media Relations
Email: Send Email
Country: United States
Website: https://www.simplifyingcalculation.com