How an MS diagnosis led to a clean cosmetics company.
USA – 08 Jun, 2022 – Seven years ago Natalie White was experiencing multiple health symptoms, including pain, numbness, fatigue, vision loss and a loss of sense of taste.
She would spend all day in bed, but as soon as her three children returned home from school she would do her best to help manage family life.
Her symptoms became so severe that at the time she was unable to walk.
Her husband, Mitch White, carried her to the car and they went to the hospital to see if they could find some answers.
"I had never been so sick," she said.
It was then, at the age of 42, that she was diagnosed with Multiple Sclerosis or MS.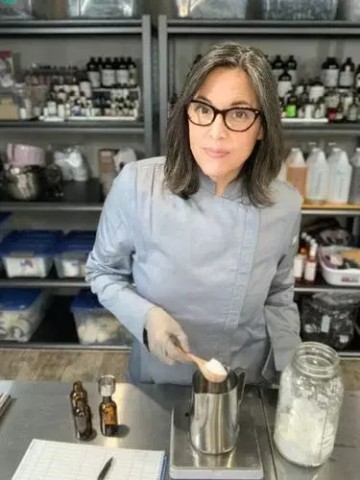 "I was told there is no cure," White said. "I would need to take multiple drug protocols and I should pick one to try in order to slow the progression."
"My future was that I would be living in a wheelchair," she said.
According to the National MS Society, approximately 1 million people in the U.S. are living with Multiple Sclerosis. Most people are diagnosed between the ages of 20 and 50 and it predominately affects women.
While there is no known cure, there are treatments for the progressive neurological disease— of which there are multiple types.
White said she discovered a diet-based method of treating MS naturally and she soon after read a book written by Dr. Terry Wahls, who also has a form of the disease.
According to her book, by eating a paleo-based diet and clean living, Wahls was able to ease her MS symptoms.
Within days of the diagnosis, White started a new diet which included fresh fruit, leafy greens, a variety of vegetables, meat and "good fats." She began drinking more water to flush the toxins out of her body and eliminated products from her home that contained harsh chemicals.
Her symptoms soon subsided and she began to feel better — her slurred speech improved, she could walk straight, her hair got thicker, nails became stronger, skin began to look more youthful and the excess weight melted off. She had fewer headaches and what she describes as less brain fog.
Food became her medicine, she said.
White documents this experience on her blog and social media page, "MS Saved My Life." Her husband Mitch also adheres to the lifestyle and shed 50 pounds in the process.
Eight years later, Natalie says her symptoms completely subsided and she does not take any conventional drugs.
"I started feeling so amazing, every day I did another step and eliminated toxins in my soaps, lotions and skincare," said White, who even started making her own products.
She enjoyed using homemade, organic products so much she decided to start Be Well Company — a natural, clean, plant-based skincare company, which launched in 2017.
The Whites have owned several different companies over the years, including a stainless steel water bottle sales company, a raw food company and a technology company, so entrepreneurship comes naturally to them.
The entire basement of their home is set up as a studio where the products are created, mixed and packaged. They have a vision to build a barn to create a wellness and lifestyle center to incorporate the philosophies of the company.
Be Well's top selling product is a clean deodorant, which has won multiple awards.
"After many failed recipes, we finally hit it," she said.
"It has been three years since we launched it and I can't believe it's so amazing," White said.
Another best seller is the "Get Me Started" kit, which includes cleansing oil, probiotic toner and nourishing cream.
"We use all organic, fresh, cold-pressed USDA organic ingredients," she said.
"The use of probiotics is just as important for gut health as it is for keeping skin healthy," she said. "It helps balance the bacteria because you need the good and bad."
White said business sales have doubled every year and the company will gross $1 million this year.
"There are a lot of people who are seeking to feed their skin with healthy products and to reduce their toxic load," she said. "The things you can control are important."
The business has grown so fast that Natalie said she needed help keeping up with demand. Be Well now has affiliates who sign up to be independent contractors, who sell the products.
While White's focus is on building a loyal customer base, she said her goal is to make sure she can have a manageable work-life balance.
"This is bigger than what I can do by myself," she said.
However, Natalie does it all— recipe creation, label design, website and marketing Be Well's social media pages are filled with healthy recipes as well as product recommendations so people can explore the lifestyle she says saved her life.
"This product line was designed to support Natalie with her MS," her husband Mitch said. "Reducing the toxic load is the whole mission."
"We receive emails every day from people thanking us," Natalie said. "It makes me feel so good that their toxic load has reduced so much by using these products."
Media Contact
Company Name: Be Well Company
Contact Person: Natalie White
Email: Send Email
Country: United States
Website: https://bewellcompany.com/