IPPY Awards Names "I Dream of Water" As "Most Likely to Save the Planet"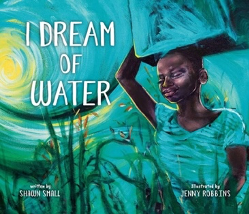 {The Independent Book Awards chose "I Dream of Water" from over 5,000 candidates.}
Water is Basic, a non-profit that has built 500 wells to provide clean water to over 1.5 million people in South Sudan, announced today that their first children's book, "I Dream of Water," was named the winner of the 2022 IPPY Award for the book "Most Likely to Save the Planet." Chosen from over 5,000 entries, this award will help "I Dream of Water" get into public elementary school libraries around the world.
According to the judges' feedback, "'I Dream of Water' is a book that sticks with its readers and reminds us all of our connection and responsibility to one another and Mother Earth."
For Author Shawn Small, the highlight of the acknowledgement was in the category the book won.
"This is not a category you can enter a book into. The IPPY committee hand-picked 'I Dream of Water' from every entry. It was completely unplanned and unexpected. It's a tremendous honor."
The idea for the book originated in 2011 when Water is Basic President Steve Roese commissioned Small to complete the documentary, "Ru: Water is Life."
The film followed a 12-year-old girl, Jina Keji, as she completed her three daily two-mile treks of collecting water for her five younger siblings and ill grandmother. The same gray watering hole was the primary water source for 3,000 people of Hai Village outside Yei, Sudan. As the primary caretaker for her family, collecting water dominated Jina's life.
"The film crew immediately fell in love Jina," Small said. "Her story is captivating. She was one girl who represented millions of girls in the same situation."
The award-winning documentary shed light on the crisis in Sudan and helped raise over $1 million to build wells.
Jina gave permission for her story and likeness to be used to create a children's book to bring additional awareness to the crisis.
"She is overjoyed by what her story has accomplished," Small said.
"The final project was more than a children's book," Roese said, "it was a work of art."
The next step for the team is to get 5,000 copies of "I Dream of Water" into elementary schools.
"We want to change the point of view of an entire generation," Roese said.
"The first goal is education. But we have also seen first-hand what students can do when they get inspired by stories like Jina's," Small said.
In 2015, Illustrator Jenny Robbins was an art teacher near Fairview, Texas. Her students heard Jina's story and wanted to help.
"The fourth graders put on an art show for their parents and allowed them to bid on their projects," Small said. "They ended up raising $8,000 which was enough to build a well to deliver fresh water to a village of 5,000 people."
"It has been my honor to use my art as a force to help others," Robbins said, "and I'm beyond excited to see this project grow and bring water to even more villages.
Since the responsibility of gathering clean water usually falls on girls and women, Water is Basic is investing in helping women be the biggest part of the solution.
"It's a radical idea that has never been done before," Roese said. "We are investing in training women to maintain the wells. Each woman is her own small business owner."
Ultimately, Roese would like for there to be enough women trained that every well that malfunctions could be fixed within a day.
"Solving the clean water problem is just the first rung on the ladder to hope and freedom," Small said.
About Water is Basic
Water is Basic was founded in 2006 with the vision that every person, no matter their location in the world, has access to clean, safe water. To date, they have brought clean water to 1,500,000 people in South Sudan and the Democratic Republic of Congo.
About IPPY Award
Conducted annually, the Independent Publisher Book Awards honor the year's best independently published titles from around the world. The awards are intended to bring increased recognition to the thousands of exemplary independent, university, and self-published books released each year. For more details please visit: https://www.waterisbasic.org/
Media Contact
Company Name: Water is Basic
Contact Person: Stephen Roese
Email: Send Email
Country: United States
Website: waterisbasic.org