Composer Randy Edelman Premiers @ The City Winery @ The Loft August 28, 2022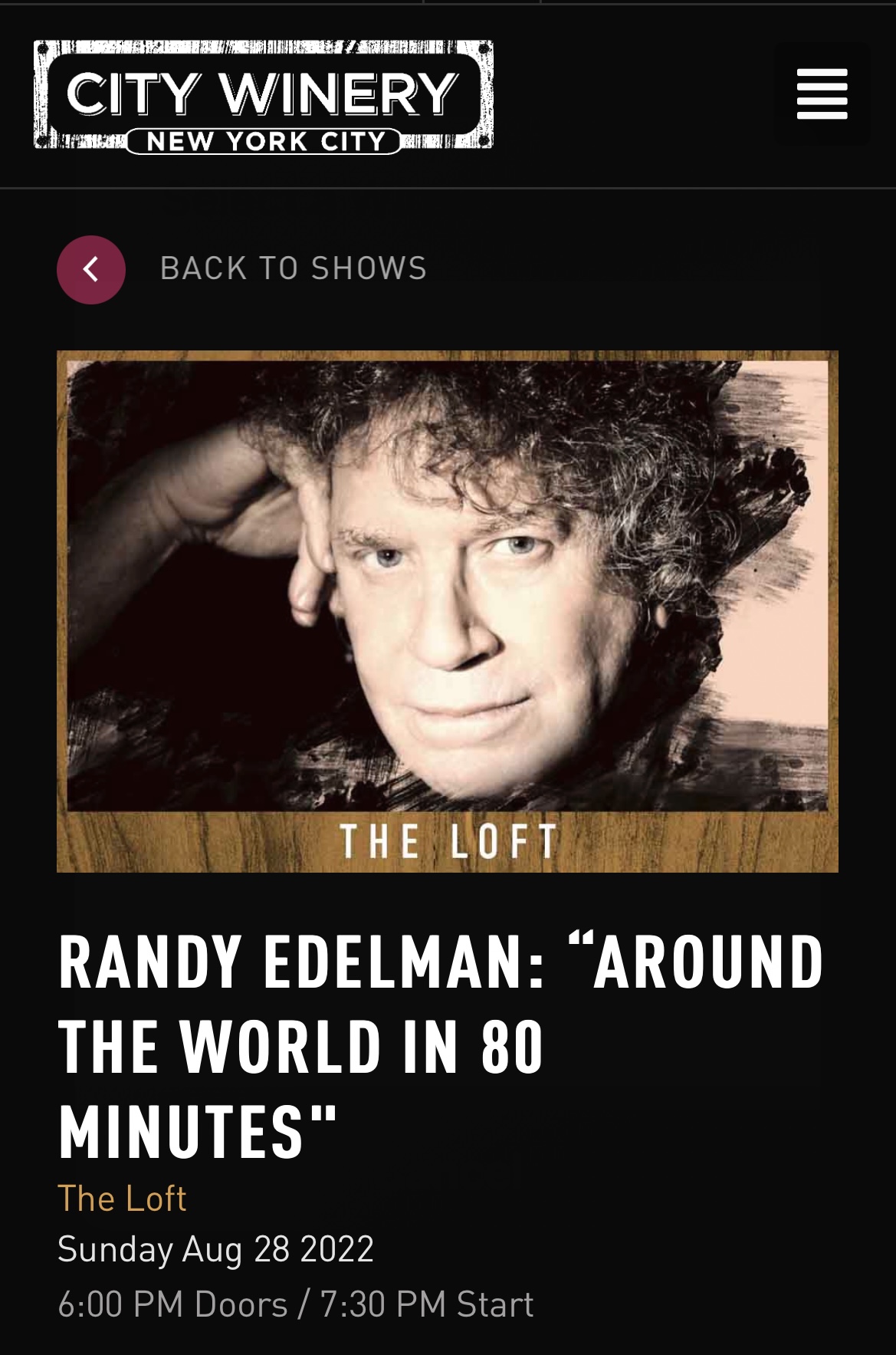 The prestigious and trending City Winery on the Hudson is proud to premier global music phantasm Randy Edelman on Sunday August 28, 2022 at 7:30 PM. The award-winning composer will be featuring music, stories and songs from the soundscape of his incredible and continuing journey as he presents "A Life in 80 Minutes."
As a pop music time traveler Randy's songs are the language of the spirit and the twilight of mankind. He first became a roaring success on the iconic British charting series "Top of the Pops" with his songs "Uptempo Woman" and "Concrete and Clay." He later wrote some of the most popular songs of our times for the most relevant and popular artists including "A Weekend in New England", (as recorded by Barry Manilow), "Isn't it a Shame" (as recorded by Patti LaBelle and hip-hop superstar Nelly), "You" (as recorded by The Carpenters), and an endless amount of others.
He is currently in the midst of celebrating his Billboard charting international post pandemic anthemic anomaly "Comin' Out the Other Side", and his new rising release R&B hit "How Could I Let You Go."
As one of the most prominent motion picture music visionaries he composed some of the most beautiful orchestrations known to man for over 100 blockbuster films. He breathed life into movies including "My Cousin Vinny", "Last of the Mohicans", "Dragonheart", "The Mask", "Billy Madison", "While You Were Sleeping", "The Skulls", "XXX", "Gettysburg", "Kindergarten Cop", "Twins", and limitless others. He also wrote the themes for the hit TV series "MacGyver", ESPN, the Olympics, and even NASA. He has performed in the biggest arenas on the planet such as the Budokan in Japan and the London Palladium from conducting massive orchestras to opening for Frank Zappa and The Mothers of Invention.
After a multiplicity of sold-out performances in some of the most elite NYC venues, Randy Edelman will grace the stage of the City Winery sharing the highlights of his career in an intimate cascade of film medleys and romantic song lyrics that are simply literature of the heart. Audiences are captivated by his whimsical anecdotes and riveting tales. In a cluster of notes all clinging together in the middle of the heavens, Randy will showcase the tapestry of this music taking refuge in echoes of familiar…
"Randy Edelman and his music are a tribute to the human race"… Pop Icon Magazine
"He is a musical hero on all levels whose work is of enduring greatest… in other words he rocks the house"… New York Daily News Online
"With an I have inside spirit and youthful sentiment, Randy Edelman romances his disciples with his unseen musical sincerity"… Louder Than War
"The Steve Jobs of music, Randy's musical framework has the power to change humanity"… New York Weekly Times
Get your tickets for Randy Edelman's "Around The World in 80 Minutes Show" at City Winery on Sunday, August 28th, 2022 here:
https://citywinery.com/newyork/Online/default.asp?BOparam::WScontent::loadArticle::permalink=NYLFT-Randy-Edelman-8-28-22-730pm&BOparam::WScontent::loadArticle::context_id=
Media Contact
Company Name: World Star PR
Contact Person: Jimmy Star
Email: Send Email
Phone: 631-506-6600
Country: United States
Website: https://www.facebook.com/WorldStarPR/