VEGER Power Releases Wireless Charging Enabled Power Bank, calls it 'MagOn'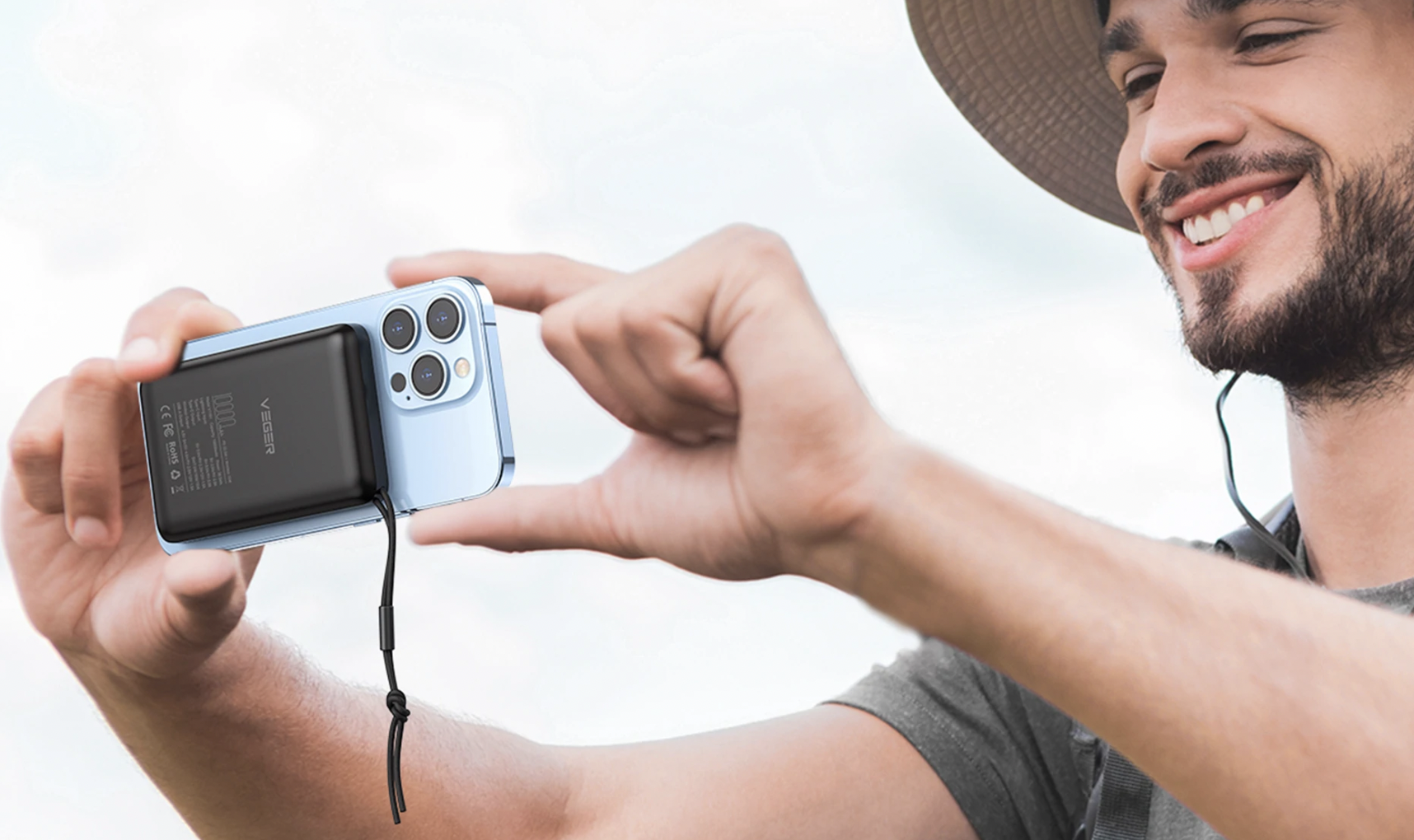 Veger Power Inc. releases MagOn; a Wireless Charging enabled Power bank consisting of a magnetic pad supporting iPhone 12 and 13 models. The power bank facilitates 15W fast wireless charging pad and also comes with a 20W bi-directional (In/Out) Type C port plus QC 3.0 USB A charging port with a maximum power output of 22.5W, and a Lightning port (Input). The power bank comes with batteries of 10000mAh.
MagOn has a compact and convenient design, making it easy to carry. "The extra durable lanyard is perfect for hanging on your backpack when camping, hiking, or exploring. You can charge 3 devices at once with this portable power bank", said Anuj Saroch from Veger Power Inc.
MagOn is compatible with Magsafe case, making it an ideal fit for iPhone wireless charging. The power bank comes with a 'Trickle-Charging mode', used for charging small gadgets. "MagOn comes with an integrated magnetic wireless charging pad and USB charging ports with QC 3.0 fast charging tech. We firmly believe that it will revolutionise the next generation of wireless charging with its unique snap-and-go MagSafe feature. We have received positive feedback from many tech influencers and our relationship buyers. We are extremely sure that it will meet the expectations of every consumer who loves wireless charging technology", continued Anuj Saroch.
MagOn consumes very less power, weighs only 170 grams, has a compact design with curved edges to fit right into any pocket or a small purse, and is phone case friendly. It is designed so that it won't block the lenses of your iPhone. MagOn has built-in intelligent safeguards to protect devices against the excessive current flow, overheating, and overcharging, making them safer to use.
MagOn is available on Veger's official website and on Amazon in 6 countries, including the USA, and covers most of Europe.
Established in 2013, VEGER has grown to become an industry leader in mobile power charging solutions, specializing in portable power banks and high-quality chargers. VEGER is well known for combining innovative design and high technology in every product it makes. Customers count on Veger for its reliable products, excellent service, and affordable prices. Veger sells its products in over 110 countries worldwide.
To learn more, contact the media outlets below.
Media Contact
Company Name: VEGER Power Inc.
Contact Person: Anuj Saroch (Overseas Brand Manager)
Email: Send Email
Phone: +1 (323) 521-4183
Address:228 PARK AVENUE SOUTH #85556
City: NY
State: NEW YORK, 10003
Country: United States
Website: https://www.vegerpower.com/