Futuristic public space: Designers rise up to the challenge bus stop design based on Bauhaus design principles
UNI announces winning entries for Baus-Stop design competition.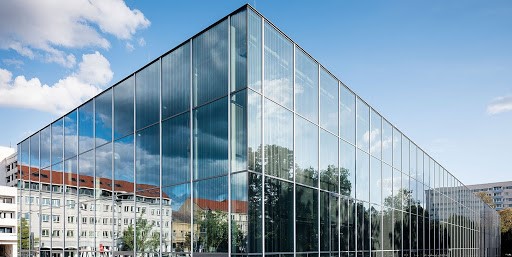 Bauhaus is an architectural movement that stands out in its characteristics, making art and functionality go hand in hand, elegantly. Standing out, with its sleek yet bold structural elements, this form of design, intended to fuse the two very important elements of design, the soul of art into the practical design of a building. The Bauhaus movement emerged as a response to the lack of social relevance of modernity. It was inspired by the efficiency of mass production that was brought about by industrialization, to attain maximum functionality. But an important aspect of the design is aesthetics, and visual impact is to be inherent to make the design a success.
The origin of this style was unconventional, but its influence is seen over art and architecture alike. This movement largely inspired the modernist movement with its play of simple forms and abstract shapes to achieve the harmonious design. Its unique aesthetic dominated the 20th-century landscape, but its essence has been extracted into modern, contemporary designs we see today.
How has Bauhaus manifested in the 21st century?
The rational approach of the Bauhaus movement led to it being considered one of the more cost-efficient yet aesthetic styles of architecture. One of its main characteristics is that it works with functionality as a priority. This mixture of combining economy and the desired outcome made it a fair option when compared to other styles of architecture where preferences were made to certain facets alone. Deemed as a democratic move against expensive forms of architecture, the design aspects were to serve people of all classes equally, giving them the option to customize the buildings to their needs. Today, some elements of Bauhaus's principles have been used in creating residences and office buildings, but while only some elements are borrowed, the values in themselves are missed. The spirit of Bauhaus has been alive for more than 20 years now, but its materialization has been lost.
How can the movement be rethought to make it more relevant to present times?
How can Bauhaus make our lives relevant and artsy while being feasibly functional? How can we as designers communicate the essence of this movement? Can this style be used to design small-scale public entities? How will it be helpful in creating successful public spaces? While the principles of the movement are universal, how can the design be made context relevant? Bus stops are usually engineering solutions that seldom invest themselves in reinventing their design. How can Bauhaus help us change that?
Brief: The design challenge was looks at manifesting Bauhaus design principles on a bus stop. The goal was to design a bus stop that stands as an example of how Bauhaus can weigh in, in changing the public space design game. It should create a balance between its design goals and functional aspects, in a way that resonates with the movement's ideas. The final outcome should stand as a memoir of the movement and its influences on today's time.
The jury for the competition consisted of esteemed designers, professionals, and academicians from around the world. The Lead Jurors for the competitions were as follows:
Hanna Richardson, Director, ZWEI Interiors Architecture, Australia
Some of the Best of competition projects are as follows:
Winning Project: BAUTSTOP
By: Moosa Silwadi
Description: ANTICIPATION was the driving force behind this project. In Germany, what can a bus stop solve in 2022? Aside from being a bus stop, it is also flood-resistant. Secondly, INNOVATION was the key to saving lives during floods. By building a responsive floating station, but had to be functional and sustainable. FORM FOLLOW FLOOD.
Jury Comments: Great idea, presentation & execution! Developing this idea from recent incidents worldwide of floods this idea is thoughtful, innovative & designed along with the Bauhaus narrative. Well done!!
People's Choice: Baus-Stop
By: Leonid Emdin
Description: Le Corbusier, guided by the principles of the Bauhaus in his work, called houses "machines for living in". Based on his statement, this bus stop is "a machine for waiting".
Jury Comments: great idea! The flexible & sustainable form of using the shelter beyond the basic function is beautifully designed & executed! Well done!
Editor's Choice: Baus – Stop, Simplified
By: Alcen ericka bantugan
Description: This is Baus – Stop, Simplified. Dissecting Bauhaus in its simplest form and objective influenced the Baus – Stop's design concept – creating a translated physical representation of the Bauhaus movement through highlighting its element's basic function, materials, and being true to its principle.
Jury Comment: good idea – the procurement could have been more playful and innovative

Editor's Choice: #Baussin' Baus-stop
By: CaiPau Studio
Description: A play on the words BAU (Building) and millennial lingo BUSSIN (Something is really good). #BAUSSIN embodies the Bauhaus movement where modernity meets functionalism; a response to our current day & age.
Jury Comment: idea of protection from the weather to be a shelter is great – functional as per Bauhaus Ideas – lovely & sustainable execution – well done.
Editor's Choice: Umbrella Baus-stop
By: Renee Lorenz
Description: Submission for the Bauhaus-themed bus stop design challenge – Weimar, Germany.
Jury Comment: good idea – could be more developed to give more shelter

Editor's Choice: Baus-Stop
By: Sascha Ahad & Conrad Ahad
Description: The bus stop is designed for the Bauhaus site but at the same time it is a prototype. Form follows function and every part of the structure has its purpose.
Jury Comment: basic idea – not enough shelter as a bus stop

Checkout all the top entries here.
Media Contact
Company Name: UNI
Contact Person: Fenil Pinto
Email: Send Email
Phone: +1 (972) 318-9454
Country: United States
Website: https://uni.xyz