Farrah Mechael Delivers Timeless New Single "Gravity" Before Debut Album
Slow things down this summer with the new record "Gravity" by Farrah Mechael, available now on all platforms. Imagine yourself as a kid again while listening; having as much fun as you possibly can while doing the things you love. For Farrah Mechael, singing was the most fun she could have possibly had as a child. She wrote and recorded "Gravity" with such astonishing passion at the ripe age of just 14 years old, along with her younger sister, songwriter Tamara Mechael.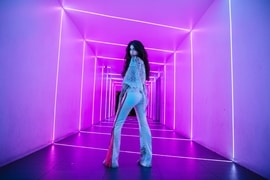 "Gravity" transcends the limits of today's music. Farrah, originally an opera singer, layers different operatic melodies underneath the chorus, creating a choir of her own voice. The lyrics, in summary, are about wanting to be free and needing to escape. Its ethereal sounds and vibrations take you to a different dimension, where the stresses of life cease to exist. Although the song was written almost a decade ago, its futuristic accents and operatic melodies give it a timeless touch. "Gravity" is a song for people of all ages and backgrounds. As Farrah says, music is the world's universal language and healer.
Be sure to download "Gravity" by Farrah Mechael, available on all streaming platforms and downloading services. This release precedes her debut album "Welcome to Forever," set to be released on July 23rd, 2021. Stay updated with concert and tour announcements by keeping up with the rising pop star on her website and social media, linked below.
Listen to "Gravity" on the links below:
Artist website: farrahmechael.com
Spotify: https://open.spotify.com/album/6Ozydo4qzlnGHpWIGYGCu8?si=o4eGRV2zRIy
x80ggsAz5ZA&dl_branch=1
Apple Music: https://music.apple.com/us/artist/farrah-mechael/797743164
SoundCloud: https://soundcloud.com/farrahmechael
Youtube: https://youtu.be/pO3YMw4Bjdw
Follow Farrah Mechael: @farrahmechael
Follow Tamara Mechael: @tamaramechael
Media Contact
Company Name: 3000 Records
Contact Person: Terrance Schemansky
Email: [email protected]
Phone: (586) 480-3000
Country: United States
Website: https://www.farrahmechael.com