Travel with a pen, not with an airplane in the post-COVID-19 era, Hand-drawn DreamSky travel coloring book by a travel drawing artist
Video Link: https://www.youtube.com/embed/lv-1vsitY5A
DreamSky is a company founded by designer and writer Joon Chun Lee when he sold his sketches as postcards 10 years ago while traveling 33 countries for 1 year and 4 months. DreamSky, which produces various travel-related culture products with travel sketch drawings and hand-drawn drawing maps drawn while traveling Korea and the world is involved in domestic distribution, cooperation project with local governments and promotional materials, development of educational contents for the next generation, global marketing abroad and various other activities. With the development of SNS, now 'global' and 'travel' are the biggest issues these days and DreamSky is creating its own travel culture by stimulating the analog sensibility of many travelers from different regions.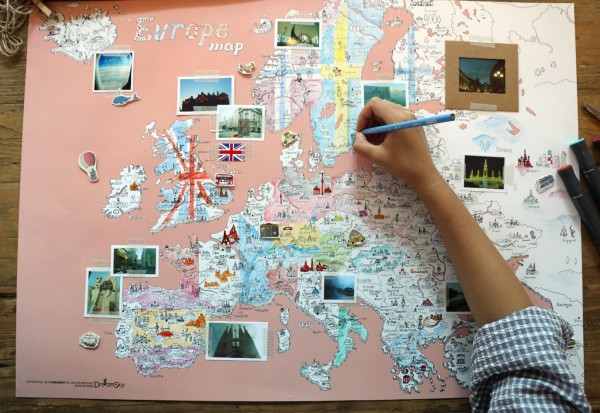 DreamSky travel coloring book is different in that it is a product of living storytelling works such as maps and illustrations drawn with drawings drawn by travel sketchers who have traveled to over 50 countries. First of all, there is a travel map in the book, so you can make a route, plan a trip, and make a schedule. On the left page, you can write travel destination information and the travel story that you experienced and felt; on the right, there is a picture of the destination, so you can color it. In addition, it is easy to carry, so you can create your own travel book by writing in coloring and essay while traveling. There are many types of choices: Europe, Italy, Germany, Spain, Korea, Seoul, the United States, the United Kingdom, France, South America, China, and Africa.
The coloring map is hand-drawn, so it is accurate and beautiful, and you can check your visit and make a tour route. After decorating, you can even attach it to the wall for decoration. The coloring map exists by country (Russia, Mexico, Canada, USA, China, Arabia, Europe, Australia, Africa, Southeast Asia, South America, India) and by city (Seoul, Hong Kong, Rome, Rio de Janeiro, Serengeti, London, Paris, New York, Sydney, Barcelona, Tokyo).
An official at Dream Sky said, "In the post-COVID-19 era, people can't go abroad so we hope that many tourists will be able to reminisce about their past trips with coloring, replace their regrets, and plan a new trip to heal."
Media Contact
Company Name: DreamSky
Contact Person: Lee Joon CHun
Email: Send Email
Phone: +82 10 5448 8630
Country: Korea
Website: https://www.gobizkorea.com/user/goods/frontGoodsDetail.do?goods_no=GS2018072752518&ctgryCode=S0700300130000&upperCode=M0700300000000&goodsNms=DreamSky-D-map-Blue