TiE Silicon Valley geared up for its first virtual flagship conference "TiEcon 2020"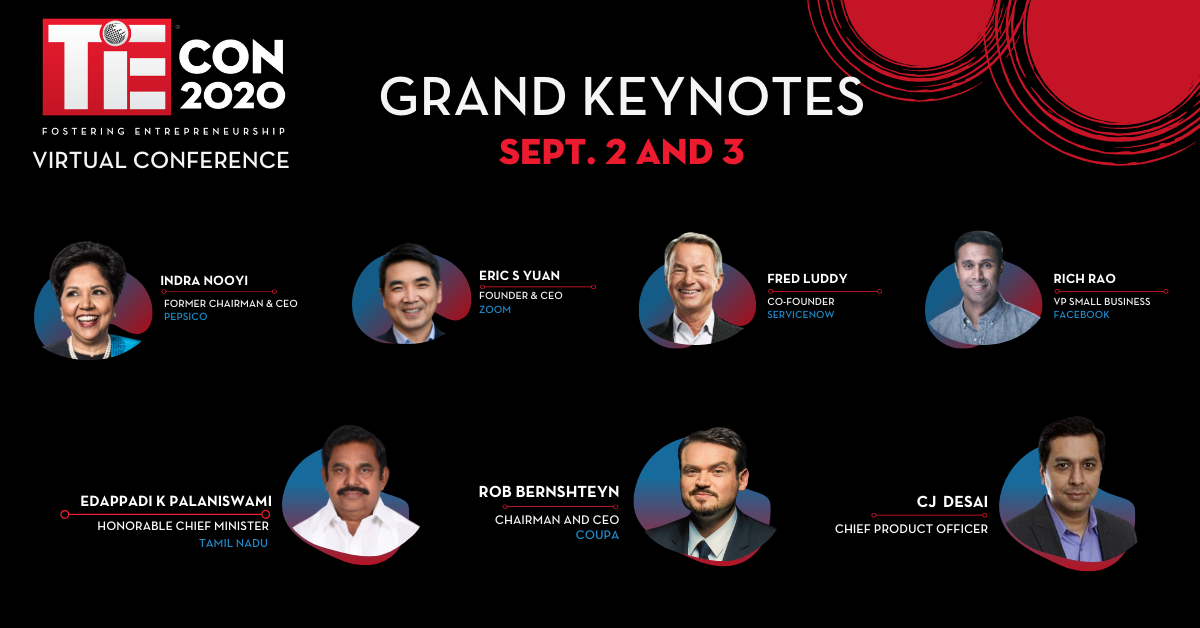 • The event will be held on 2nd – 3rd September 2020
• For the first time in TiEcon's history, the annual flagship event is taking place virtually due to the Covid-19 pandemic
Santa Clara, Calif. – Sep 1, 2020 – TiEcon 2020, a first of its kind virtual entrepreneurship conference and the global flagship event of TiE (The Indus Entrepreneurs), will be held on 2nd – 3rd September 2020. Edappadi K. Palaniswami, Hon. Chief Minister Tamil Nadu;Indra Nooyi, former Chairman, and CEO, PepsiCo; Eric Yuan, CEO, Zoom Communications; Fred Luddy, Co-Founder, ServiceNow; Rich Rao, VP Small Business, Facebook; Rob Bernshetyn, Chairman and CEO, Coupa; Om Nalamasu, Sr. VP Chief Technology Officer, Applied Materials; and CJ Desai, Chief Product Officer, ServiceNow; will be delivering the grand keynote for the event.
One of the key goals of TiEcon 2020 is to inspire entrepreneurs to make the most during these stressful times. Due to the pandemic, TiEcon has transformed into a virtual conference this year. Attendees from all 61 of TiE chapters spread across 22 different countries will convene to brainstorm on ideas. Each year, TiEcon brings together thousands of entrepreneurs from across the world. Participants of TiEcon get to meet their mentors and exchange ideas with the luminaries in their field. TiEcon 2020 will host several tracks, fireside chats, and panels focused on trending topics: such as AI/ML, Security, Diversity & Inclusion, Cloud, Fintech and Health-Tech. The conference will once again, host sessions on its most awaited topics entrepreneurship and global-connect.
The event has many special programs lined up, such as the TiE50 awards and TiE Youth. The prestigious TiE50 awards recognize the top technology and technology-enabled startups with no restrictions placed on any specific technology segment. The conference also features a series of Bootcamps, VC (Venture Capitalist) Connect, and Mentor Connect sessions, creating a complete entrepreneurial ecosystem.
Kumar Sripadam, Co-Convenor, TiEcon 2020, said, "The entrepreneurship journey begins when individuals from diverse technologies and geographies converge around an idea. It becomes a reality when they create a product, solution, or service and subsequently elevate it to its fullest potential to deliver economic outcomes. I congratulate the TiEcon staff and crew members, for putting such a stellar line of speakers and managing to create a fully virtual event during this pandemic. I am sure the attendees will find tremendous value and knowledge to take away from the sessions."
TiE Silicon Valley is a one-of-its-kind organization with a 27-year history of promoting technology startups. The organization is currently tracking more than 180,000 technology startups and directly engaging with 11,000+ of them globally. Each year TiEcon brings together more than 3000 influencers to benefit the startup community. In addition to the tracks and chat sessions, TiEcon 2020 will also have a virtual expo for participating startups to showcase their products/ services to a global audience. The expo features interactive booths, live chats, and streaming facilities. Participants can register for TiEcon 2020 online at https://www.tiecon.org/register/. Registered participants can virtually attend the live keynotes and specific tracks of their choice through a video link. The link also features a chat section where the participants can ask questions to the speaker.
For more details and images from the event, please visit TiEcon Assets
About TiE
The Indus Entrepreneurs (TiE) is a not-for-profit organization founded in 1992. The mission of TiE is to foster entrepreneurship globally through the 5 pillars of TiE: mentoring, networking, education, funding, and incubation.
Learn more at https://tie.org/
About TiE Silicon Valley
TiE's founding chapter, TiE Silicon Valley, is recognized for its intellectual capital and its flagship conference, TiEcon.
Learn more at sv.tie.org
Press/Media Contact:
Vrushali Malpekar
[email protected]
+1 408 253 4000
www.8ty6.co
8ty6 is an AI Augmented MarTech platform and Digital Marketing agency and the exclusive digital marketing partner for TiEcon 2020
Media Contact
Company Name: 8ty6 – AI Augmented Digital Marketing
Contact Person: Media Relations
Email: Send Email
Phone: 585.440.0585
City: Milpitas
State: California
Country: United States
Website: https://8ty6.co