RealMax Attends AWE Asia 2020, Showcasing the Acclaimed RealMax Qian
RealMax CEO Dr. Huang Jian Announced RealMax OpenARC at the World's Top Augmented and Virtual Reality Event.
Shenzhen, China – Aug 18, 2020 – AWE (Augmented World Expo) hosts the world's most essential AR+VR conferences and expo series. AWE's core mission is to promote the overall development of the AR/VR industry. Held in Shenzhen, the AWE Asia 2020 focuses on the world's most cutting-edge AR/VR technology and brings together the most advanced talents in the AR/VR industry.
RealMax attends the AWE Asia 2020, bringing not only their renowned product, RealMax Qian, but also conduct in-depth discussions with the participants on the current situation and future development of the industry.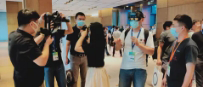 RealMax CEO, Dr. Huang Jian delivered an exciting speech on RealMax OpenARC, an Open Source Platform at AWE Asia 2020. Using the RealMax AppStore, applications can be updated continuously. OpenARC VIP allows users to download source code, models, and applications for free.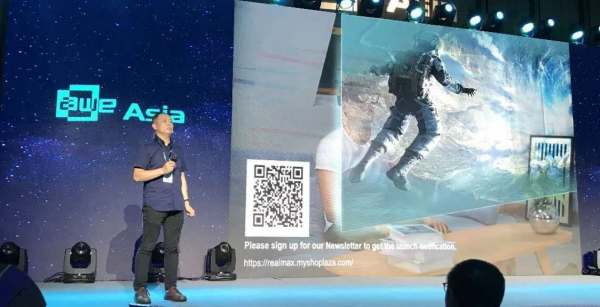 RealMax Qian was RealMax's showcased product at AWE ASIA 2020. It contains a remarkably large 100.8 degrees FOV with self-developed dual-channel see-through lenses with a customized high brightness LCD screen. The light and tetherless RealMax Qian is ultra-comfortable to wear and compatible with the wearing of almost all prescription eyeglasses.
The device is equipped with a 6-DOF inside-out dual-camera system that requires no external markers or beacons and a 6000 mAh detachable quick charge battery which supports a 5-hour use and a 100-hour standby time. The screens are paired with binocular 6DoF tracking and a 9-axis IMU sensor so that wearers can move around in a 3D space. Users can easily switch between AR and VR mode with the magnetic VR clip-on shade and play VR games using Steam© Valve using wireless streaming or a NOLO module. The RealMax Qian will be launched through crowdfunding on Kickstarter soon.
About our CEO:
Dr. Huang Jian graduated from the University of Minnesota in the United States and went on to important roles at several top multinational companies before joining RealMax. He is an adjunct professor at Xiamen University and has been selected as the council member of the China Next Generation Internet Union.
About Us:
Established in 2003, RealMax is one of the leading companies in the area of Augmented Reality. By combining software, hardware, content, and services, RealMax aims to enhance human understanding by making AR accessible to everyone.
If you have any queries regarding RealMax Qian, please feel free to contact our Media Manager. For more detailed information about RealMax Qian, please visit https://realmax.myshoplaza.com
Media Contact
Company Name: RealMax
Contact Person: Media Manager
Email: Send Email
Phone: +8618602130199
Country: China
Website: https://realmax.myshoplaza.com