TiE Silicon Valley launches "Road to TiEcon" with Deepak Chopra, MD, Vinod Khosla, Amitabh Kant, and Indra Nooyi as Grand Keynote for TiEcon 2020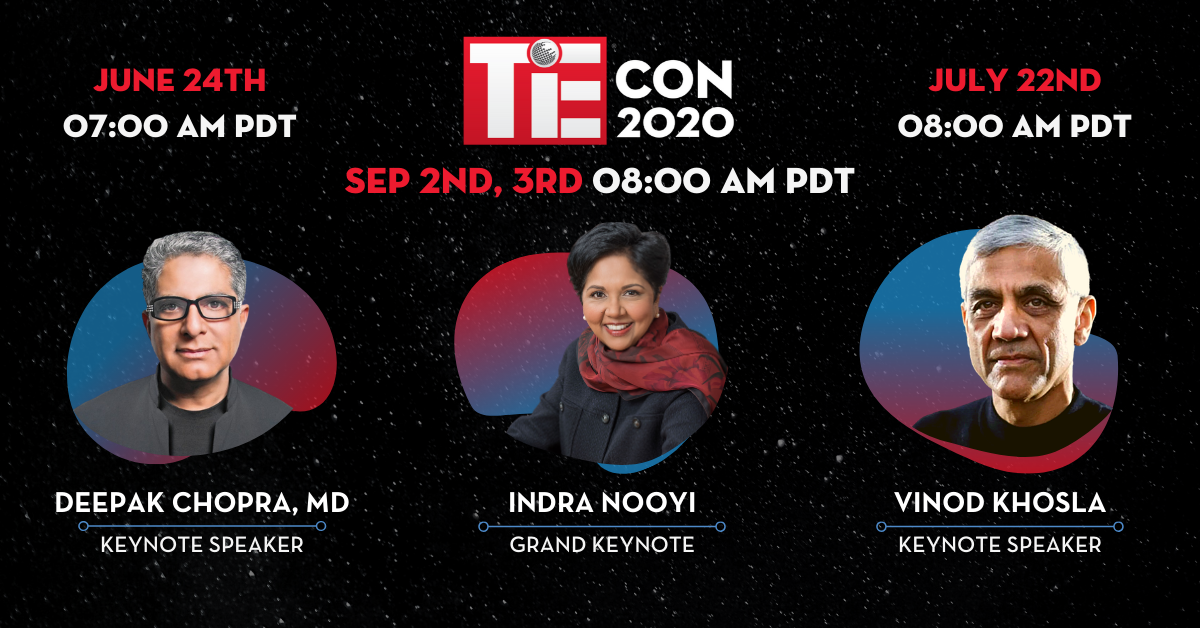 TiEcon 2020 goes virtual to deliver its promise of innovation, quality talks, and networking opportunities to the startup ecosystem. It is one of the largest Entrepreneurship Conferences in Bay Area. The Virtual Conference staggered over 4 dates is expected to attract a huge global audience from various TiE chapters spread across 14 countries. TiEcon provides a networking platform to entrepreneurs, professionals, and investors along with access to prominent figures of the startup world.
Santa Clara, California – TiE Silicon Valley is all set with its signature annual conference TiEcon 2020, one of the largest global conferences dedicated to fostering entrepreneurship on September 2nd and 3rd from 8 AM to 12 PM PDT.
TiE Silicon Valley has shown great agility by taking the conference virtual in this unprecedented time due to the COVID-19 pandemic. It is now a series of the 3 virtual events, starting with Road to TiEcon (RTT) that comprises two anchor events that lead to the main event i.e TiEcon 2020.
The Road To TiEcon series features Industry Experts, Tech Giants, and Thought Leaders in a myriad of keynotes, panels, fireside chats. The premier Road To TiEcon event welcomes renowned author and alternative medicine advocate Deepak Chopra, MD from The Chopra Foundation, and Vinod Khosla from Khosla Ventures as Keynote Speakers on 24th June. The Road To TiEcon 22nd July event hosts Amitabh Kant, CEO of NITI Aayog as it's Keynote Speaker. The Grand Keynote Speaker for TiEcon 2020 is the legendary former Chairman & CEO of PepsiCo., Indra Nooyi.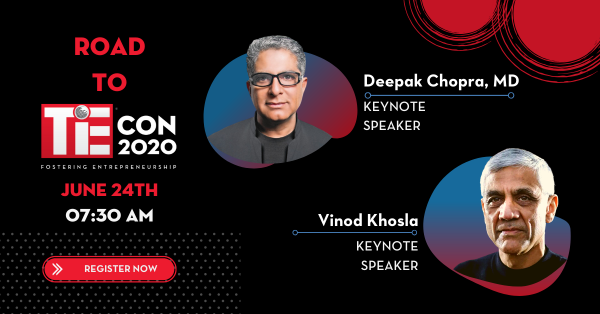 24th June Road To TiEcon (RTT)
07:30 AM to 12:00 PM PDT
Keynote by Deepak Chopra, MD, Founder at The Chopra Foundation

Keynote by Vinod Khosla, Partner at Khosla Ventures

Expert Panel by Chris Jones, Director Cybersecurity, Dell Technologies

Expert Panel by Jason E Kelley, GM – Blockchain Services, IBM
22nd July Road To TiEcon (RTT)
08:00 AM to 12:00 PM PDT
Keynote by Amitabh Kant, CEO at NITI Aayog

Expert Panel by Dell Technologies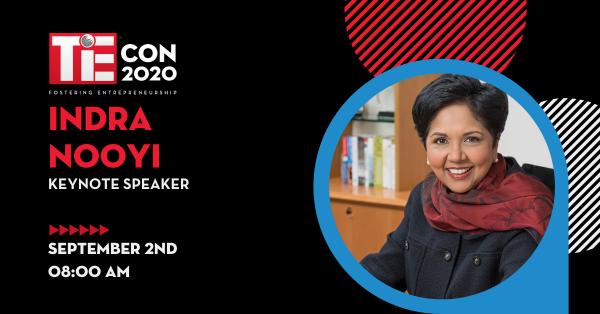 2nd and 3rd September TiEcon 2020
08:00 AM to 12:00 PM PDT
Grand Keynote by Indra Nooyi, former Chairman & CEO of PepsiCo

Fireside chats, Panels focused on AI/ML, Security, Diversity & Inclusion, Cloud, Blockchain & Fintech, and IoT/Edge Computing, Health Tech, Entrepreneurship, Global Connect, Diversity & Inclusion, Trending Technologies, and TiE Special Programs – TiE 50 and TiE Youth.

A series of Bootcamps, VC (Venture Capitalist) Connect and Mentor Connect are also organized creating a complete entrepreneurial ecosystem
With over 27 years of success in fostering entrepreneurship, TiE Silicon Valley is a not-for-profit organization. Every year the TiEcon conference attracts over 4,500+ attendees from 22+ countries. It not only helps connect startups and entrepreneurs but also offers them mentorship and an opportunity to meet angel investors and venture capitalists. A great place for networking, TiEcon is embraced by Entrepreneurs, CXOs, Venture Capitalists, and Tech Luminaries among others.
The substantial benefit emanating from the event is significant. TiE SV's premier annual awards program, TiE 50 winner shares his experience.
"It was an honor for CoreStack to have won the TiE50 award in 2019," says TiE 50 Winner, EZ Natarajan, Founder & CEO, CoreStack. "TiE50 was a great forum and opportunity for budding and fast-growing companies like CoreStack to get validation, showcase the offering, and gain GTM visibility to accelerate the growth momentum."
The support provided by the entrepreneurial ecosystem plays an important part in a founder's journey.
"I will always be grateful to TiE for being the best school for helping me," says Sumeet Mahendra, Founder & CEO, RTIwala. "If I have to compare my entrepreneurial journey to formal education, then TiE has played the role of a school in which webinars acted as classroom lectures and mentors as friends, as well as, teachers."
Notable Testimonials
"For startups in India, I want to thank TiE for its valued suggestions, for creating a more supportive environment for startups. I know you will succeed on the strength of your genius and enterprise, but when you need a helping hand, or when you find hurdles in your way, we will be there for you." – Narendra Modi, Prime Minister of India
"On my book tour of The Indus Entrepreneurs (TiE) in California, I spoke with 4,000 Indian entrepreneurs and engineers. It was the most exciting day I had on my tour… [to see] thousands of Indian entrepreneurs dominating Silicon Valley. It's amazing what has happened. What India has done for Silicon Valley is unbelievable." – Jack Welch, Former CEO, GE
About TiE
The Indus Entrepreneurs (TiE) is a not-for-profit organization founded in 1992. The mission of TiE is to foster entrepreneurship globally through the 5 pillars of TiE: mentoring, networking, education, funding, and incubation.
Learn more at https://tie.org/
About TiE Silicon Valley
TiE's founding chapter, TiE Silicon Valley, is recognized for its intellectual capital and its flagship conference, TiEcon. Learn more at sv.tie.org
About 8ty6
8ty6 is an AI Augmented MarTech platform and Digital Marketing agency. With a data-driven approach, 8ty6 provides the right combination of tech and marketing virtuosity with a plethora of sophisticated in-house marketing tools that amplify a brand. 8ty6 is the exclusive digital marketing partner for TiEcon 2020.
Learn more at https://8ty6.co/
Media Contact
Company Name: 8ty6 – AI Augmented Digital Marketing
Contact Person: Vrushali Malpekar
Email: Send Email
Phone: 585.440.0585
City: Milpitas
State: California
Country: United States
Website: https://8ty6.co