Delano Perry Publishes a New Book, Titled: Millennials: The So-Called Entitled Generation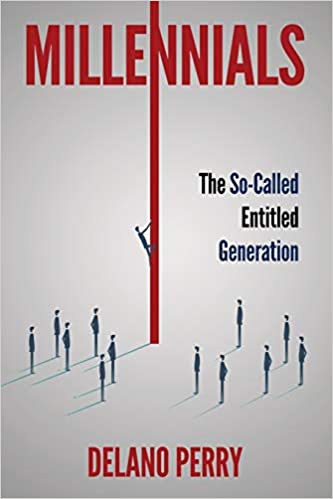 Delano Perryannounces the launching of his newly published book. The book is titled, "Millennials: The So-Called Entitled Generation. Millennials: The So-Called Entitled Generation is written based on different issues characterizing the life of an ideal millennial in the 21st century. The book has been officially launched on Amazon on June 8, 2020. Having been a millennial who experiences what other millennials are also experiencing, Delano Perry explicitly details the everyday challenges of being considered entitled and narcissistic in his book, "Millennials: The So-Called Entitled Generation." Apart from having ISBN-13: 978-0999890172, appealing yet elegant cover, the book has been carefully designed in paperback format and is currently selling fast on Amazon.
For an informative book that Millennials: The So-Called Entitled Generation is, it explains and dissects questionable labels that are attached to young people. In a world where many of the older millennials do not consider themselves millennials and are often confused about the age range of the millennials, the author, dexterously maps out effective ways through which every reader can understand who millennial is and how the privileges and entitlements that are daily ascribed to millennials are nothing but mere imagination. The book, which is 128 pages in length, is written in conversational yet simple English language.
Therefore the book, Millennials: The So-Called Entitled Generation does not only give millennials the necessary information on how to improve their lives but also corrects several misinformation and labels about millennials. The bookdefines yet addresses prejudice and stereotypes millennials face daily. It also has information for both young and older people. However, the book specifically helps young people to understand themselves, their environment, time and discover how to improve their lifestyles and worldview.
Delano Perry, the author ofthe book, while addressing a group of journalists, said, "I wrote Millennials: The So-Called Entitled Generation so everyone can understand who a millennial is. Many older people have different misconceptions about people under 30 – the millennials. My book addressed that headlong. The book, as it is titled, shows that older generations wrongly believe millennials are entitled to some privileges.
"Millennials: The So-Called Entitled Generation addresses different contemporary issues – such as the issues of broken or lost generation due to the financial setbacks that were caused during the Great Recession; massive amounts of student debt. I also addressed how people have abandoned many of the old ways of thinking about religion, marriage, education, and company structure. I advise you get a copy to discover hidden truth and reality about millennials." He concluded.
To make the book accessible and affordable, copies can be downloaded on Amazon. A copy goes for $14.95 only. The book can also be used as a gift to millennials, adults, older people, and those who intend to understand who a millennial is truly is.
Media Contact
Contact Person: Delano Perry
Email: Send Email
Country: United States
Website: https://www.amazon.com/dp/0999890174/