A group of Los Angeles Millennials Redefine Group Chat with a New Social App
Group chat is set to get a lot more exciting with the new social app, Topiks
Topiks is a chat app with a social twist that leverages the camera at the center of creating interesting and engaging topics. Users from all around the world can engage in live conversations over various topics created by other users through photography.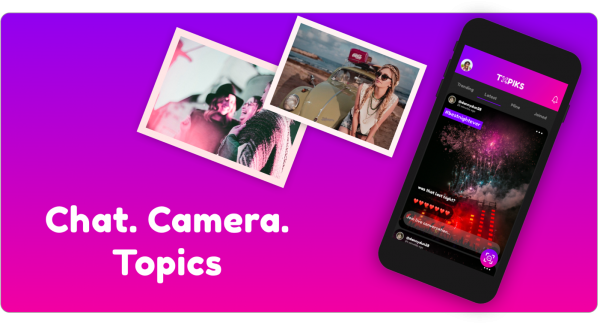 Topiks App is the brainchild of a veteran software engineer, Adam Solomon, who has been working in the field for more than 12 years. He began working on the idea, with his friends, in 2018 in a small apartment in Torrance, CA; however, responsibilities shifted their focus away for a while. But they regrouped earlier this year to finalise it.
When asked about the motivation for creating Topiks, the groups' Lead Engineer, Adam Solomon, explained: "We wanted to change the old-school way of chat rooms. No one has time to read long paragraphs to engage in a conversation. We created Topiks App to enable users to engage in live conversations over short videos or photos right from their phones," Solomon added that the group considers this app the ultimate outcome of their careers.
Chatrooms often require users to be specific and clear in their messages. At the core of Topiks app is the freedom to capture an audience and initiate engaging chats with compelling photographs. This app will appeal to those with a knack for photography and will encourage those lacking in this art to hone their skills.
Topiks App is available for free download for both Android and Apple phones. For further details visit: https://topiksapp.com.
Media Contact
Company Name: LetsText, LLC
Contact Person: Adam Solomon
Email: Send Email
Phone: 310-590-0361
Country: United States
Website: https://topiksapp.com/