Sweats to Suits: New Release From Motivational Speaker & Author: Yahavy David St Clair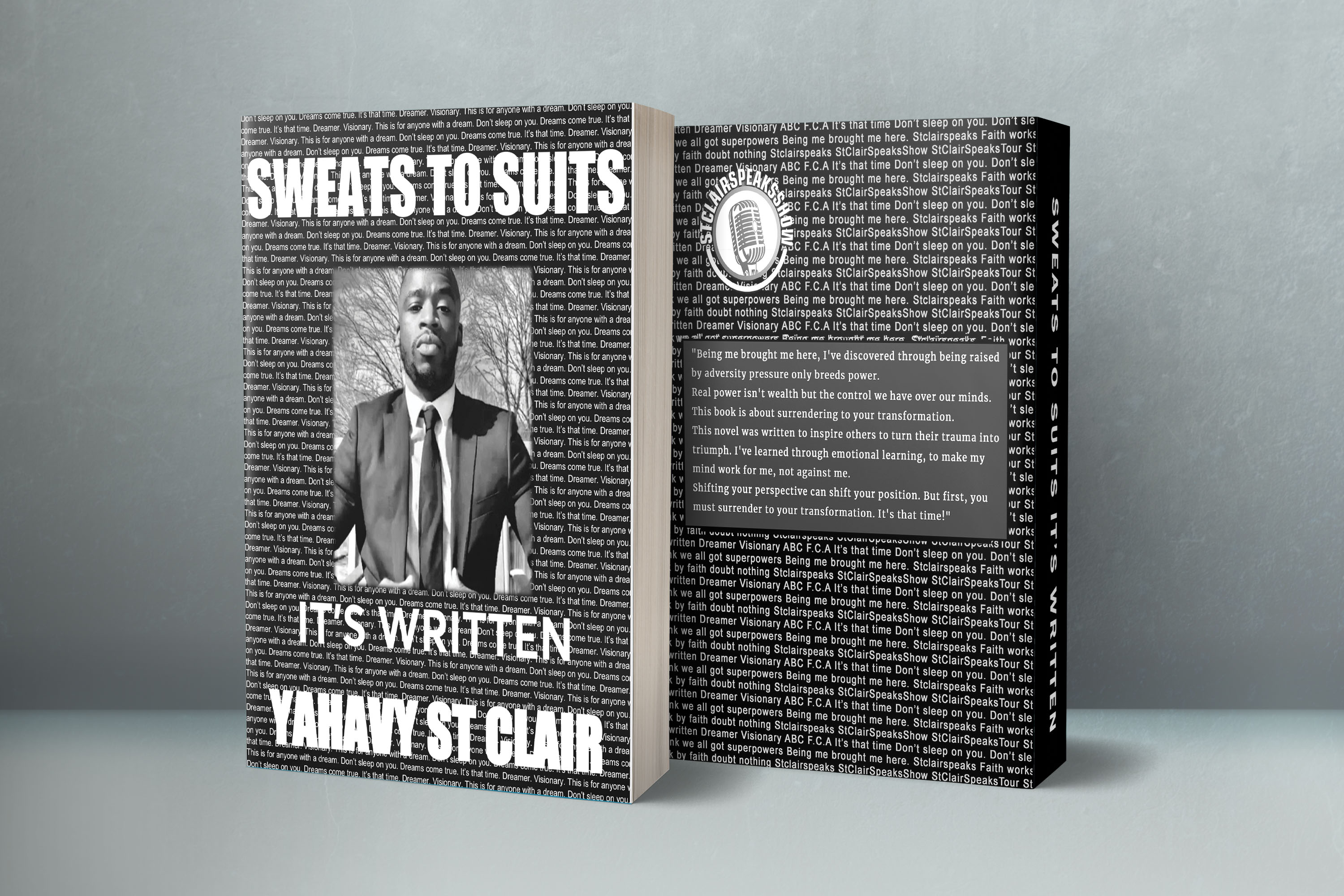 United States – June 9, 2020 – Visionary Motivational Speaker & Author; Yahavy David St Clair, announces the release of his new motivational book, "Sweats to Suits," which is now available on Amazon. Yahavy St Clair tells all in his story from rising above defeat into finding his purpose in life through speaking and storytelling.
Yahavy has established an excellent reputation for his inspirational Short stories and Informative Health and Wealth & Content. With the launch of the book "Sweats to Suits," readers are meant to be inspired by Yahavy's experiences. How he turned trauma into triumph, having grown up fatherless, and being exposed to gun violence at a tender age. Through his story, readers will discover their unique abilities, individuality, and breakthrough boundaries, such as fear that have long stood in the way.
Sweats to Suits also offers unique insight because it is also meant to show readers how not to lose sight of other aspects of their lives. With the powerful message, motivation, and proven methods included in this book, you will soon start seeing significant changes in your own life. Sweats to Suits is about surrendering to your transformation.
"Sweats to Suits is for those who have felt defeated by life's events at one time or another and wished they could start over," Yahavy shares. "Heck, we've all been there – a broken relationship, a failed business, a lost job, poor health, dwindling hope, financial desperation. This book shares that even after a big life disaster has hit us, life can become great again… and maybe even better."
This book is dedicated to those who felt like they weren't good enough to do anything significant. Adversity is a blessing, and pressure only breeds power. Sweats to Suits is available in four editions: Kindle, paperback, audio, and the video book edition which includes exclusive behind the scenes footage, narrated chapters with green screen effects skits and bloopers from the StClairSpeaksShow podcast. Along with a sneak peek of TheStclairShort animation cartoon series. Extra content includes studio performance of 2 of his hit songs Dreamer and Visionary.
My juice in life is helping people win," Yahavy shares. "Too many people are told too many times to water down their dreams. I choose to be the guy that encourages others to live the best version of themselves. It is not only the right to do but your one idea away from changing your life. Sweats to Suits gives hope to the idea that whatever may have happened in our lives previously, we still have the power to apply a few secrets that can help us live with more passion and purpose than ever before."
Those who are ready to discover life-changing methods should try "Sweats to Suits" by Yahavy David StClair, which will be available in kindle, paperback, audio, and video book format through Amazon.com and can also be found at stclairspeaks.com.
Note, the book is currently available for pre-order and will be available in both as of 06/12/2020.
About the Author:
Yahavy David is a highly sought after speaker, author, and fitness professional. He is the host of StclairSpeaksShow, a one on one sit down interviews with likeminded individuals.

Media Contact
Contact Person: Yahavy David StClair
Email: Send Email
Country: United States
Website: stclairspeaks.com