Chotovelli's vintage-style Navigator watch surpasses its Kickstarter goal in less then 48 hours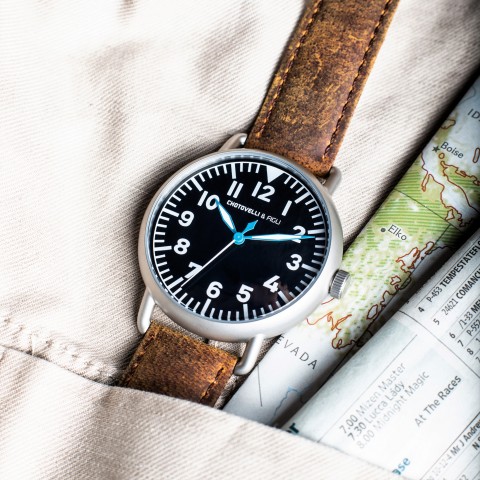 With its first Kickstarter campaign of a Minimal Pilot Watch "Flieger 1919" which showcased the classic type B (B-uhr dial) being successful, Chotovelli & Figli took another challenge of reproducing the classic B-Uhr Type A design. "Navigator 1949" vintage-style watch is created by Ilan Chotovelli, who along with his sister Tami, started his own watch company named "Chotovelli & Figli".
Based in Antwerp, Belgium, "Chotovelli & Figli" is a third-generation watchmaking company that focuses on design, production, and sale of military-inspired watches at attainable prices. The "Navigator 1949" Pilot Watch by
Chotovelli & Figli is engineered and designed to showcase functionality, reliability, and precision.
The case of this watch has a satin sandblasted finish and the design hark back to 1940s pocket watches which were issued to U-boat crews and Navy Pilots during the war and the crown of the watch is mid-size and easy to use for setting the time. The dial of the watches are meant for maximum readability, and has an outer minute track with enlarged marks and accompanying Arabic numerals for each hour, except for the 12 o'clock position.
These watches are the smallest size watches ever made by Chotovelli & Figli who have chosen a neat 43mm wide but it will wear smaller due to the short lugs. The concept of these watches is based on how some of the first wristwatches were modified pocket watches, a homage for the early days of horology. The case back of the watch is made of Solid Stainless Steel and engraved only with the watch's serial number and basic specs.
The campaign has surpassed its fundraising goal by a huge amount with numerous backers supporting it from around the world. The retail price of the watch is estimated to be €190 but the backers can pre-order the watch at a price as less as €90 through the early rewards.
More information about the product can be found on its Kickstarter Page.
Media Contact
Company Name: Chotovelli & Figli
Contact Person: Chotovelli Ilan
Email: Send Email
Phone: 3156364335
Country: Belgium
Website: www.chotovelli.com