Indrabhuwan Kumar Singh Form Penury To Become Successful CEO By Following Simple Rules
I used to feel that the most astounding story was to ascend from a clerical specialist to Manager. In any case, what about going from poor to CEO of MeTL Agro part of MeTL Group in Tanzania, one of the greatest conglomerate in East Africa as a CEO few years later?
That's the story of Indrabhuwan Kumar Singh who is currently CEO of MeTL Agro and He is giving his input to many verticals in MeTL Group like Boxer Motorcycles, LG /Mo Electronics division, trading operation / Fertilizer business apart from MeTL agro limited.
MeTL Agro provide Tanzanian farmers with superior quality, durable machinery and advanced technology, ensuring 'total solutions' for all farming needs but at low maintenance costs.
And he wants to go even further. As he said in a recent interview, "In my eyes, what I've achieved thus far is a stepping-stone for even greater achievements–my goal is to make MeTL Agro one of the best renowned company in Agriculture sector, and I know I can accomplish that." The great example of his devotion & commitment, when MeTL Agro limited awarded by ATE (Association of Tanzanian Employers) – in Agric sector – The Best Employer of year award in 2018 (EYA)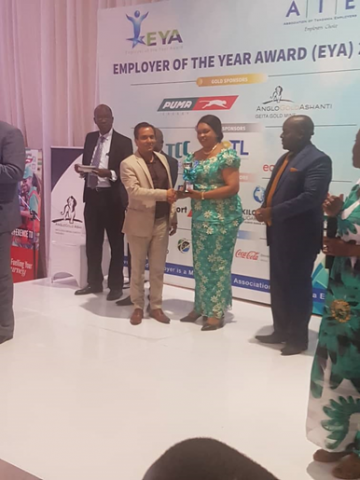 Indrabhuwan has overcome some serious obstacles. "As a child, my family struggled to put food on the table. What inspired me the most was the time my parents couldn't manage to pay my school fees," he said.
Penury inspired him to help others. As he explained, "When you sleep on dirt, you worry about what can crawl onto you–so you learn which precautions to take to keep the bugs away. Despite extreme penury, he continued to fight, struggle and turn his life to successful track. He explained further No Penury no pain, No pain no gain & No dream – no hard work. Any Dream without action is illusion & day dreaming. The unbridled desperation I experienced at younger age was the driving force behind my motivation to succeed and help others."
How did Indrabhuwan go from poverty to CEO success? Here are five keys:
1. Find yourself and follow your calling.
If you don't know where you're going, any road will take you there.
But how do you figure out the right direction for you?
Indrabhuwan drifted along and stumbled on to the right path. As he said, "Few years I never saw my worth or value. It wasn't until In 2011 I got opportunity to move Nigeria, West Africa even though many peoples advised it's not safe location but I committed to company so I couldn't step back. I tapped into my potential and was able to find my true voice and calling. That experience helped me gain the confidence to do what I love–which is to help guide and teach."
And he believes that people should spend as much time as they can on that path. "100 percent of the time I do what I like to do. In other words, everything I do for MeTL Agro is a joy."
2. Fight for what you believe.
To build a successful organization you ought to have strong beliefs and be willing to work hard to realize those beliefs.
Indrabhuwan admires leaders who inspire others. As he said, "My role models include: Mother Theresa, Martin Luther King Jr., and Gandhi. They were all successful because they spoke to the needs of people that were not being met, and stood up for what they believed in–their perseverance led to unbelievable change."
3. Get stuff done.
Decent standards are profoundly rousing for a business person and for an organization's kin.
In any case, what is important most is transforming that inspiration without hesitation. What's more, Indrabhuwan has exhibited his capacity to complete things the correct way. As he clarified, "Accomplishment to me is realizing that my loved ones realize I love them, my commitments to my organization have been met, my rundown of day by day assignments has been finished, and at last, that I haven't brought worry into mine or other's lives during the time spent achieving those objectives."
4. Build a great team.
As a company grows, one person can't do all the work. Indeed if an entrepreneur wants to do great things, he must surround himself with great people who share his vision.
But whom should you add to your team? For Indrabhuwan, the answer is people who are good at important things that he does not do well.
"A friend taught me a lesson: you should spend 20 percent of your time teaching, and 80 percent time learning. I'm an artistic entrepreneur, and I've surrounded myself with really great managers. I know what I don't know and I enlist those who know more than I do," said Sandoval.
Indrabhuwan has done this. "Being on teams has always inspired me the most for business and even non-business related experiences. I always sought to surround myself with those that were better or smarter than me, not 'yes men' that I could dominate–I carried that forward in business, and it helped lead to MeTL Agro success."
5. Connect with people.
If you can build a great team, odds are good that you will also be good at working with them to come up with great new ideas and collaborate with them to realize those ideas. I always encourage positive attitude in team & look for it. He can compromise on knowledge /skill but the first thing for him is attitude. We can give training to people to acquaint with knowledge & skills but attitude is eternal and inbuilt. So before choosing his team, first thing he looking for attitude only
It all comes down to the ability to connect with people.
And this is a skill that Indrabhuwan has proven he has in spades. As he said, "Here is what all my prior bosses would share with you if given the chance: I have an uncanny ability to connect with people of all walks of life. I genuinely care about others, and that quality has allowed me to succeed in my endeavors. I learned a long time ago that if people trust you, they trust your brand. It's as simple as that."
Media Contact
Company Name: MeTL Group
Contact Person: Indrabhuwan Kumar Singh
Email: Send Email
Phone: +255-768465102
Country: Tanzania
Website: https://indrabhuwan.com/