Barge East explains how Harkness Screens have prepared them for reopening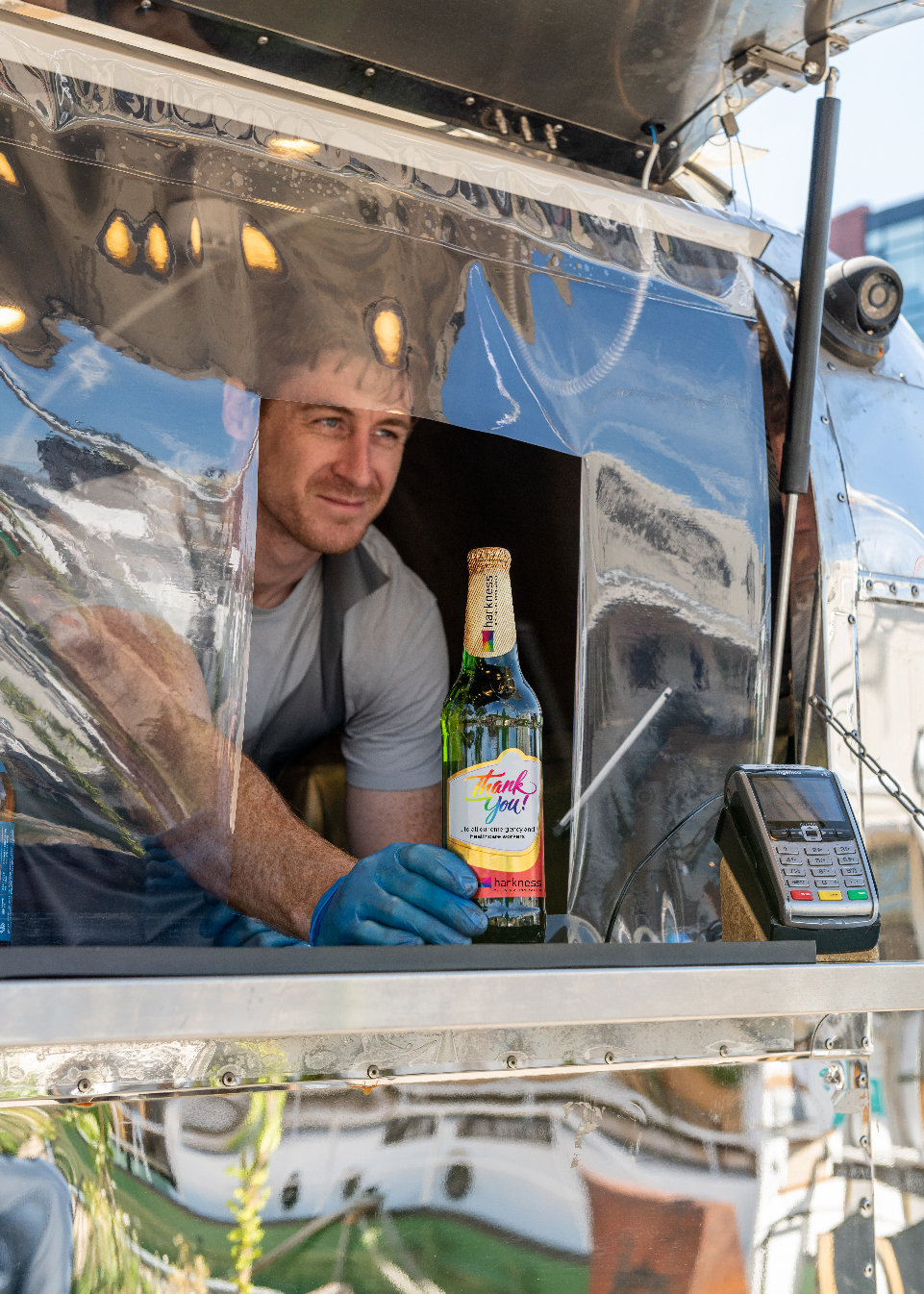 Two weeks ago, Harkness Screens installed Personal Protective Equipment (PPE) at East London restaurant, Barge East. Established two years ago, Barge East has become a favourite for Londoners and visitors to the city alike, a No1 rated restaurant in London according to Tripadvisor 2019/2020.
Having to shut its doors in accordance with government advice in late March, Barge East owner Robert 'Blandy' Bland jumped at the opportunity to have some of Harkness' PPE installed on the early 20th century Dutch Tjalk.
As a result, the restaurant has been able to restart its takeaway operation sooner than planned, alongside providing NHS key workers with lunches and donating much needed supplies to Bow food bank.
"Because of the screen, we have been able to open up earlier than planned," Blandy said, "We have been able to bring our staff back from furlough. They are now earning their full wage again, but in a safe environment, so that's amazing for us, just to be able to start trading again.
"Many businesses have had no option but to close completely during the Coronavirus pandemic, whilst others have adapted quickly through change and innovation. Harkness Group is a great example of this, they changed what they usually do to help other businesses, which is a testament to them."
Having restored the 119-year-old Dutch Tjalk after its purchase in Holland, Barge East is docked close to the London Stadium, at the heart of the London 2012 Olympic Park. Chef, Ryan Craig, and businessman, Stuart 'Tommo' Thomson, are Blandy's two business partners and launched the Keep us Afloat campaign when the restaurant initially had to close when Covid-19 hit British shores.
"We have built up this reputation as somewhere in London that is great for food, a great experience," Blandy said, "I think sometimes when you have a bit of novelty restaurant, the experience can overshadow the food. We don't really have that. It is a complete package; great food, but in a really unique dining experience.
"When Covid-19 kicked in and we were told to close, our biggest priority was supporting our staff because they are the reason we are in the position we are in and we wanted to do everything we could in this time to support them and make sure we had the same team when we came to the other side. That was critical for us."
Having had barrier screens installed at key areas at Barge East, where customers and staff are most likely to be in contact, the barrier screens are made from PVC, the same material used to make cinema screens by Harkness. Having seen the product himself, Blandy believes that the implementation of the PPE at his restaurant will now mean that he is able to effectively reopen in the coming weeks.
Harkness Protect products are available worldwide and have a number of uses in environments where public health is paramount. From restaurants to cinemas to temporary hospital facilities, learn more about how Harkness Screens can protect you by emailing [email protected]
Media Contact
Company Name: Harkness Screens
Contact Person: Joe Harvey
Email: Send Email
Phone: +44 (0)1438 725 200
Address:Unit A, Norton Road
City: Stevenage
State: Hertfordshire
Country: United Kingdom
Website: www.harkness.co