Erika Mejía has Converted Flowers into a Work of Art, called Lovely Roses, for a Living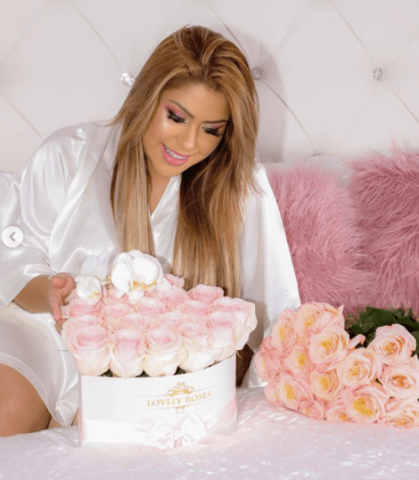 Erika Mejía has been particularly fascinated with roses and everything related to them. She has this particular gift of turning flowers into work of art. She has combined her gift and practice to sell people flowers that look like an authentic works of art.
Mejía, from the city of Miami, travelled to the United States with heart full of dreams and a pocket that had 200 dollars. She took up many jobs to earn before she landed in florist business which she fell in love with. She mastered the technique for some time before becoming a full time professional florist.
She has put in a lot of discipline, dedication, effort, and hard work to make her flower shop called Lovely Roses. Now her shop is Miami's most famous floristry which is dedicated to creating authentic bouquets of roses that are luxurious as well as exclusive.
Her clients adore her work and she has become an entrepreneur from being an employee. She has clientele that includes Demi Lovato, Anuel AA, Karol G, Luis Fonsi, Camila Cabello, Thalía, among others.
The success of her flower business has made her more humble and graceful and got her presence felt in Miami's Latino community. She has been using her knowledge for the community and sharing her success secrets with people on Instagram through her channel, @erikamejia_oficial, who are interested in learning the art of roses and floristry.
Erika has become an example for all Latin American immigrants to work hard and achieve success. Everyone loves her and respects her for the work, especially those who have faced similar trials and triumphs as her and knows how immeasurable hard work and dedication is.
Media Contact
Company Name: M2 Studios
Contact Person: Mauricio Rosero
Email: Send Email
City: Miami
State: Florida
Country: United States
Website: http://www.m2studios.net/