Alvar Wallet – The New Wallet Protecting People's Credit Card Information
Innovative RFID Blocking wallet, Alvar Wallet, continues to receive accolades from different categories of users
Alvar Wallet is a carbon fiber wallet made using the RFID technology to help keep the information of credit card users safe and away from unauthorized persons, particularly skimmers and hackers. Since the RFID wallet was launched, it has continued to garner positive reviews from users across the United States, with more than ten thousand "happy" customers in different parts of the country.
The incidence of identity theft in the United States and other parts of the world has continued to increase in recent times, making it a major cause for concern for millions of credit card users worldwide. According to a recent report, there were more than 650,000 cases of identity theft in 2019, with Georgia, Nevada, and California topping the list for identity theft. With over 270,000 reports, credit card fraud ranked as the most common type of identity theft in 2019 and more than doubled from 2017 to 2019. The United States experienced the worst year in history for identity theft reports in 2019. Credit card information theft has become a major issue with identity theft accounting for 20.33% of the more than 3.2-million fraud cases reported to the Federal Trade Commission (FTC) in 2019.
Several protective tools have been developed over the years to keep credit card information away from unscrupulous persons. Unfortunately, many of such solutions have not met the need of users, until the emergence of the Alvar Wallet. Using the RFID Blocking Technology, the wallet is designed to block external electromagnetic fields used by credit card scanner, from communicating with the NFC chip and antenna in the card.
Other features of the Alvar Wallet that stand it out from the pack include strong money clip for easy and secure carriage, 100% real carbon fiber and stainless steel for durability, and a sleek and compact minimalist wallet design for carrying up to 12 cards.
The wallet's unique combination of style, simplicity, relative affordability, and quality has helped to increase the popularity and acceptance of Alvar Wallet, with accolades coming from different categories of buyers and users nationwide. "Flawless product. Impressive built quality. Confirmed RFID block material. I'm very happy with what I received. Thanks, Alvar," said Mark.
Alvar Wallet is currently available to interested buyers across the nation and comes with a 30-day moneyback guarantee for unsatisfied users.
For more information about Alvar Wallet and how to keep credit card information safe, please visit – https://www.alvarwallet.com/.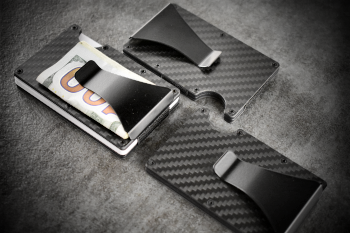 Media Contact
Company Name: Alvar Wallet
Contact Person: Media Relations
Email: Send Email
City: San Antonio
State: TX
Country: United States
Website: www.alvarwallet.com