Uniquer presents carefully curated stunning artwork from artists aged 16 to 60 years old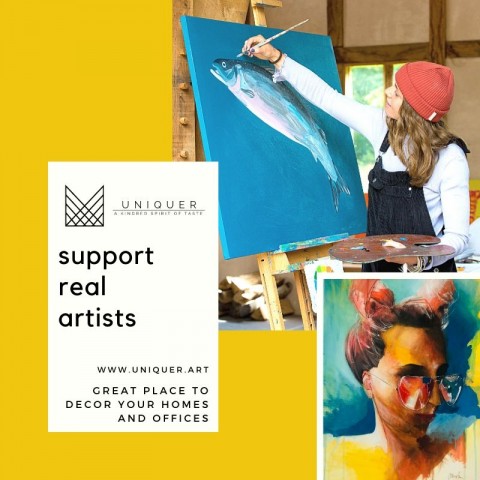 Art shouldn't have any filter and so does the curator that sells it. With the same belief, Uniquer.art presents stunning artwork with no category filters, so the users can experience browsing through a varied collection of meaningful artwork by talented artists, without any limitations. Uniquer is a dedicated marketplace for offering beautiful artwork created by artists aged 16 to 60 from all walks of life. The artists create single copy artworks so one can own a truly unique piece of art. Uniquer does not limit the artists with regulations, categories, or borders, so they can create art that is a true reflection if their imagination and creativity.
Uniquer is a one-stop destination for all the art connoisseurs where they can find high-quality, durable, and attractive pieces of art. Intending to push the art industry to the next level and build a new trend of art trading to help all kinds of artists, Uniquer provides a platform for the artists to express truly and freely with their art.
"Being an artist does not mean, being a gearwheel for commercial purposes. Being an artist requires inspiration, which can come from anywhere and in many forms." — Uniquer.
Unique regularly upgrades its platform as per the latest technological trends while providing all kinds of support and funding for the upcoming artists. Unlike many other art marketplaces that hire artists to paint as per the 'market and customer trends', Uniquer allows the artists to express and create their art freely, without any boundaries. This whole process is designed to fuel their ultimate mission to "Free the Artist Mind".
From a minimalistic oil painting of a wave breaking onto a reef in the ocean to the glorious tropical tiger, Jasmine flowers to a female warrior, Uniquer features a wide variety of artwork, one of its kind, to widen your horizons and use the artwork to add beauty to your space.
Check out all the artwork at uniquer.art.
Media Contact
Company Name: Uniquer Culture Limited
Contact Person: Kin Ho
Email: Send Email
Country: Canada
Website: uniquer.art