Obere Obi Makeup Collection by Cecilia Okugo Now Available Online, Launching the Latest Releases in Lip Makeup and Contouring
FORT WORTH, TEXAS – ObereObiCosmetics.com by Cecilia Okugo is pleased to announce the launch of their new shopping website exclusively catering to the makeup needs of the customers. From eye and lip makeup, the store now features an exquisite collection of products for all the beautiful makeup enthusiasts out there. New customers can now get 20% off on their shopping and they have to use the "20OFFSHOP" Promo Code at the time of checkout.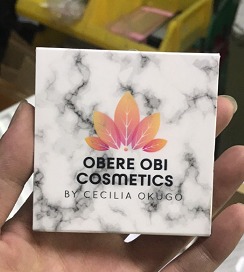 Women can now discover their hottest lip obsessions with a range of lipsticks, lip gloss collection, lip liners, lip balms, and more. High shine or matte finish, shimmer or metallic, shoppers can choose from a lip finish of their liking. Whether it keeps the lips hydrated or plumping them up a bit, the collection here will sure meet the lip needs of their customers. The store also features the bestselling makeup kits which include lipsticks, eyeliners, face and body glow powders, blushes, eye shimmers, eye glitters, liquid shimmers, eye shadow, and lip glosses.
There are different kits available with a combination of products to help customers choose the one that suits them the best. Customers can also choose based on the theme of the makeup kit such as matte, liquid matte, heavy metal, baby colors, nude tones, dark makeup, lavender to plum, etc. Obere Obi also offers excellent business opportunities for those who want to be a part of the most lucrative industry. Enthusiastic and creative people with an eye for makeup are all invited to be part of this venture with Obere Obi Cosmetics. More details can be found on the website.
To know more visit Obere Obi Cosmetics is a brand by Cecilia Okugo, a product developer, author, entrepreneur, illustrator, writer, and influencer. The online makeup and cosmetics store features the latest and the hottest makeup products for customers.
Media Contact
Company Name: Lady Day Media
Contact Person: Cecilia Okugo
Email: [email protected]
Phone: 817-601-5742
Address:2017 East Myrtle St
City: Fort Worth
State: TX 76104
Country: United Kingdom
Website: https://www.obereobicosmetics.com/