BrightFox is now offered Nationwide Through Mr. Checkout's Direct Store Delivery Distributors.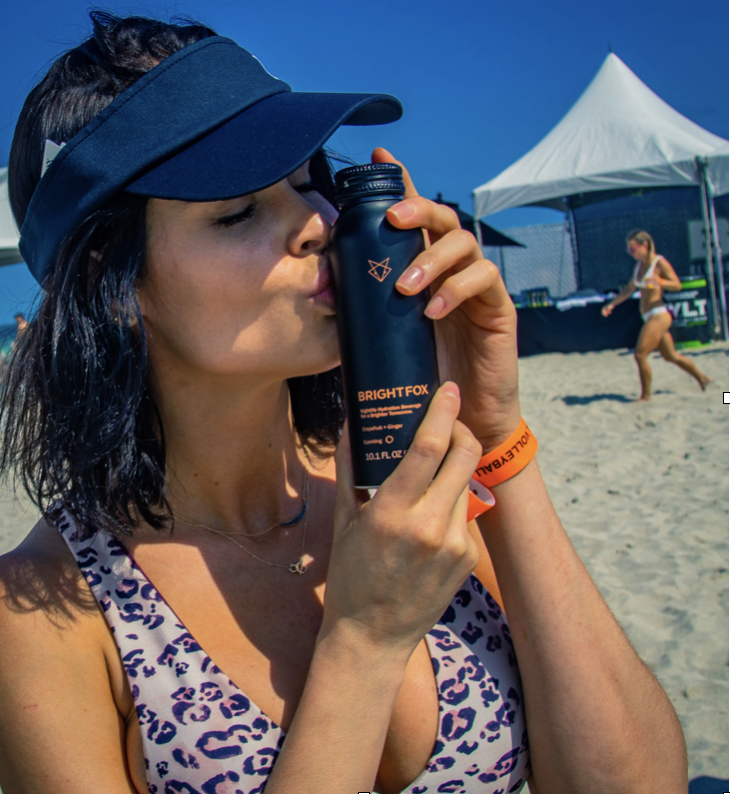 BrightFox launches the eco-friendly, healthy hydration beverage that NFL stars and Hollywood models can't get enough of!
BrightFox is an Eco-Friendly, Healthy, Hydration beverage with 3x the electrolytes, and 1.5x the vitamins as other sports and recovery drinks. In addition, BrightFox features other essentials such as zinc, choline, and potassium but with 0 sugar, 0 calories, 0 sweeteners, 0 stimulants and 0 coloring. BrightFox comes in 3 flavor profiles (grapefruit-ginger, cucumber-mint and blueberry-vanilla) in both still and sparkling.
From an 18 year, global award winning career that began in Boulder, Colorado and after working intimately with some of the leading global beverage brands, Sabry, founder of New York based TBE Beverages left the corporate world to pursue a beverage innovation that he created through an intensive scientific process coupled with his deep experience in the market.
Sabry set out to create a beverage that consumers would be comfortable picking up at any point during their daytime or evening rituals, while promising consumers something healthy enough to feed their children. "We felt that hydration, immunity and eco-friendliness were really important, and wanted to find a way to get all of these into a single solution. On top of this it's really hard to find any beverage other than water that does not contain colorants, unhealthy additives, sugars or sweeteners, or a combination of all of them, even if they are "natural".
Nearly three years on from the start of this journey and after over 1000 iterations of formulation, BrightFox launched with up to three times the electrolytes of popular sports drinks, twice the vitamins of vitamin drinks, and additional nutrients such as zinc for immunity and choline for liver function. The real differentiator however is that the product has zero calories, zero sugar, zero stimulants, zero color and zero sweeteners, comes in three sophisticated flavors both still and sparkling.
BrightFox worked closely with Brooklyn based industrial designer and Fast Company 2019 "Most Important Design Companies" honouree Joe Doucet to create the iconic BrightFox branding and aluminium bottle design. "A single bottle of BrightFox recycles 400 plastic bottles, and provides a real imperative for consumers to recycle their bottles due to the various returns programmes globally. 75% of aluminium ever created for the food and beverage industry is still in the market today".
Together with some of the world's top mixologists, the team ensured that BrightFox mixed incredibly with a range of alcoholic beverages, and was delicious on its own, allowing BrightFox to launch into the New York and Miami Nightlife scene with its trademarked "Nightlife Hydration for a Brighter Tomorrow" slogan, offering a beverage innovation unlike anything that had been launched previously – a super healthy beverage, mixable with one's favorite spirits,without any of the bad stuff ; that provided hydration, nutrients, assisted the body in processing toxins and tasted amazing.
BrightFox has also found a home with the increasing number of consumers who choose not to consume alcohol and are left with no healthy choices outside of water.
Launching in the Nightlife allowed BrightFox to play in a space where it could have a strong share of voice and invent a sub category that no one had tried before. The company has been able to produce some amazing content along with gaining a following including some of the biggest names in the fashion industry such as Bella Hadid. But their strategy is much wider.
"Wellness follows fashion, not the other way around" emphasises Sabry, "Through our efforts in the nightlife, BrightFox has found a loyal wellness following and also exposed us to markets that we never thought possible, such as diabetics. For example, we did not realise that hydration for our diabetic customers was previously quite challenging due to the unhealthy levels of sugars, sweeteners and colorants in products found on the market today, even the most innovative."
"With the onset of the COVID19 epidemic, we really had to pivot our strategy. Fortunately during our scaling phases last year, we established a national fulfillment capability along with fulfillment by Amazon, which allows delivery via several channels really quickly. This has allowed us to direct all of our efforts to online and off-premise", says Sabry.
The BrightFox team has also been working closely with their partner venues across New York city to build benefit schemes for staff, and has also become involved in several feeding schemes providing meals and hydration to health workers across the USA.
Sabry and the BrightFox team believe that their trademarked slogan of "For a Brighter Tomorrow" is more relevant today as it ever has been, and they continue to embark on their journey of spreading eco-friendly, healthy hydration to the masses."
Media Contact
Company Name: BrightFox
Contact Person: Mikaila
Email: Send Email
Phone: 9179359053
Country: United States
Website: https://mrcheckout.net/brightfox/