Big Hookz Announces The Release Of The Visuals For Their Hit Single "Right With You"
The release of the single "Right With You" took the world by storm. Now, Big Hookz and his team has released the music video to the song, which has already become a hit in major online mediums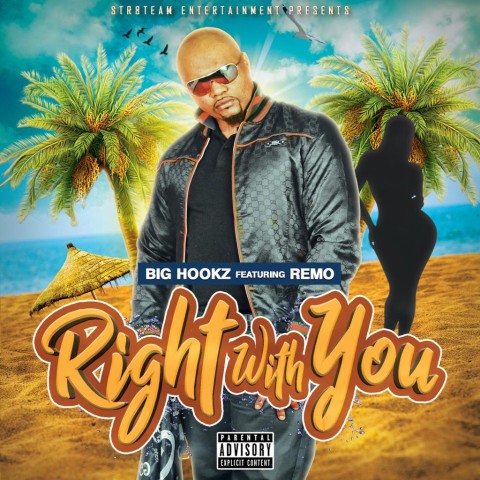 Not too long ago, song writer and hip hop artist, Big Hookz, released a single "Right With You". So far, the song which features and is produced by "Remo The Hitmaker, has reached millions of listeners across the world, thereby becoming a certified hit that is redefining the global music industry.
Big Hookz is proud to announce the release of the music video to the song, which is currently a top trending video on YouTube. The video is an excellent work of art and consistency and creativity, with impressive visuals, made in an entertaining style.
Shot in a beautiful neighborhood in Los Angeles, audiences are taking on a journey of glamour and affluence, as characters in the video add to the story telling attempt of the visionary video director, Aim and Shoot.
This single is on his upcoming album called "Visionary (No Days Off)", an afro Carribbean/RnB mix type album. His last album was released early this year called "NS4L – NeverSettle4Less" under United Master & his label StrTeam Ent.
Big Hookz is an artist, executive-producer, entrepreneur and CEO of indie powerhouse Str8Team Entertainment. He's currently based in the metropolitan area (DC, Maryland, Virginia) aka (DMV), born and raised in Cameroon, before moving to Hamburg, Germany. Hookz has expanded and made a name and a home for himself in Africa, Europe and the USA, through hard work and determination.
He has made several strides in the music industry including blockbuster features in Hip Hop Weekly, The Source, 2DopeBoyz, Hot 97, and Yo! Raps. His video has played on BET and MTV, and millions of FM radio spins for his media praised singles "Make A Milli" (over 3.5 million impressions on iHeart radio) and also smashing hit single "Pull Out Cash" featuring Kevin Gates.
Big Hookz is goal driven and oriented artist who brilliantly mixes a wide range of sounds and lyrics into his music and has done just about everything an artist can do musically. Having already shared the stage and collaborated with countless high profile artists such as Eminem, 50 Cent, Xzibit, The Game, O. T. Genasis, Mike Jones, Beenie Man, Kevin Gates, Styles P and more, the buzzing rhymes spitter and global artist is literally right on the cause of taking the urban music world by storm.
Besides being an artist, Big Hookz is also a manager and Executive Producer. He currently manages 5 artists that are signed under his label Str8Team Entertainment.
Big Hookz is clearly on his way to being among the best in the music industry!
To learn more about Big Hookz, visit the following links:
Facebook: www.facebook.com/bighookz
Instagram: www.instagram.com/hookzstr8team
YouTube: www.youtube.com/str8team
Media Contact
Company Name: Indie Powerhouse Str8Team Entertainment
Contact Person: Big Hookz
Email: Send Email
Country: United States
Website: www.strteament.com